Reuters: Adam Scott's one-shot victory at the Honda Classic in Florida on Sunday earned him not only a 12th PGA Tour title but also the best possible validation that all his hard work on a revised putting technique is now paying off.

With a ban on anchoring putters to the chin or chest coming into effect at the start of this year, Scott had tried to wean himself off his beloved broomstick putter during his 2015 campaign but experienced several setbacks with that transition.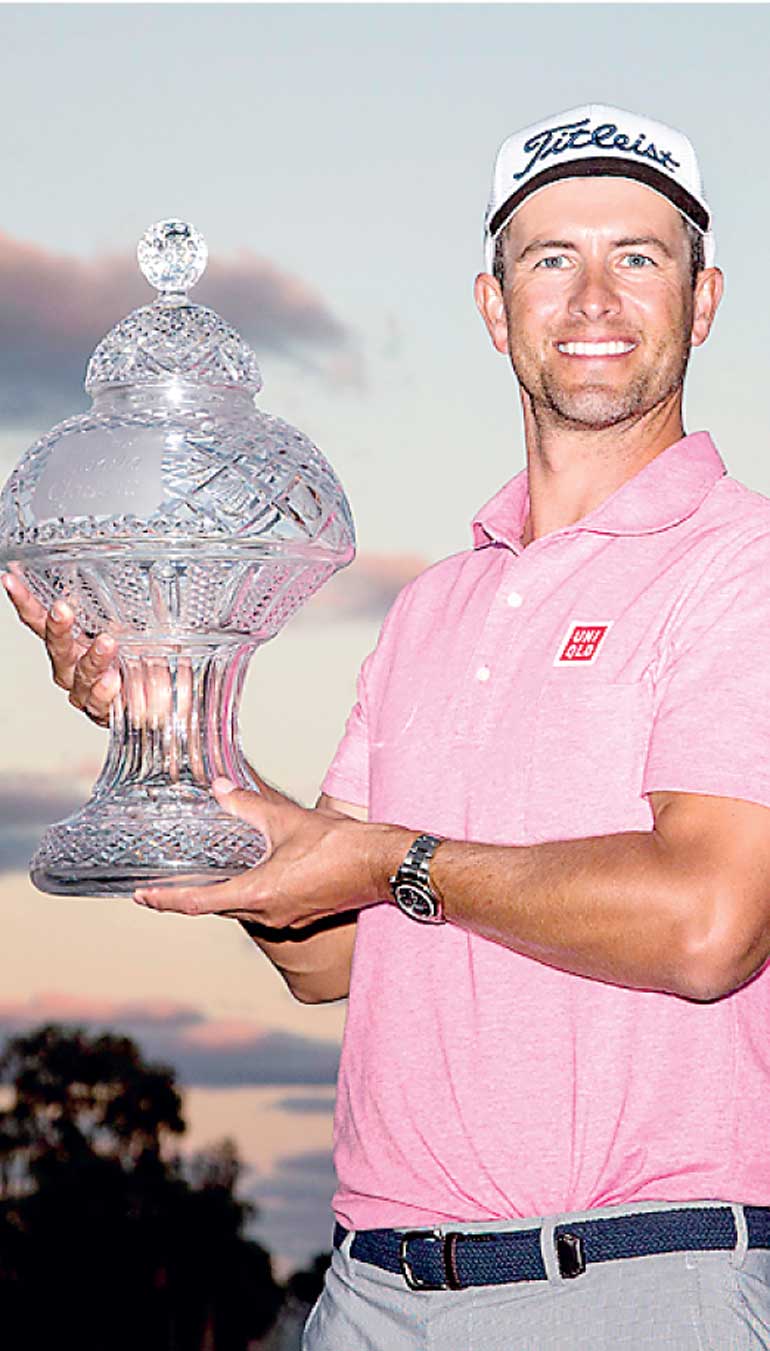 Adam Scott celebrates with the trophy after winning the Honda Classic at PGA National - USA TODAY Sports
The Australian returned to the comforts of the longer putter in golf's biggest events when the pressure was at its most intense before committing for good to the conventional stick at the Presidents Cup in October, when he again struggled.

Gradually, though, the change bedded in and Scott, increasingly confident on the greens, produced three runner-up finishes in his last seven starts worldwide before at the Honda Classic ending a title drought of almost two years.

"My game's come into a really good spot the back end of last year and now starting out this year," Scott told NBC Sports after carding a level-par 70 on the PGA National layout at Palm Beach Gardens to beat Spaniard Sergio Garcia by one shot.

"We have been working hard to get it there because it was slipping a little bit, it was a bit loose last year. The consistency wasn't there.

"I have made some nice progress in all areas, especially noticeably on the greens, and it paid off this week."

Scott's putting statistics on the 2014-15 PGA Tour made for miserable reading as he finished 141st in total putting but this week on a very challenging Champion Course at PGA National he oozed confidence.

He began the final round by sinking a 15-footer to birdie the par-four first, and then buried a 10-footer at the fifth to move two strokes clear.

Several other birdie attempts by Scott during the day narrowly slid past the edge of the cup and golfing great Jack Nicklaus, who re-designed the Champion Course in 1990, paid tribute to the Australian's putting on the NBC Sports telecast.

"His stroke is terrific," said Nicklaus, an 18-time major champion.

"He looks great over the putter and he is making his share of putts. If you're putting like that all day, you're always going to make some putts."

The last time Scott won a tournament with a conventional 'short' putter was more than five years ago at the Singapore Open.

He then switched to a broomstick at the 2011 Match Play Championship and went on to win seven titles across the globe with an anchored putter, including his first major at the 2013 Masters.

"It feels very good, it's been a great transition certainly," Scott said of his successful return to the short putter.