AFP (Zurich): Barcelona star Lionel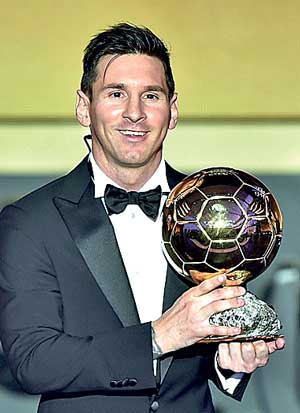 Messi won a record fifth FIFA Ballon d'Or award for the world's best player at a ceremony in Zurich on Monday.

The Argentine dethroned three-time winner Cristiano Ronaldo in adding to his four consecutive awards from 2009 to 2012.

Brazil star Neymar, who also plays for Barca, came third in the vote by national team coaches and captains, and journalists.

"It's a very special moment to come back, to get a Ballon d'Or again after the two years in which Cristiano Ronaldo won each time," said the 28-year-old Messi. "It is incredible that it's my fifth. This Ballon d'Or means more than I could have ever dreamed of as a child."

Messi, who voted for his Barca team-mate Luis Suarez, had 41% of the vote, Ronaldo getting 28% and Neymar 8.0%.

His victory continued the duopoly of the award he enjoys with Ronaldo that has lasted since Brazilian Kaka claimed top honours in 2007. "We have always had a good relationship," said Messi about his rivalry with Ronaldo.

"We share a profession, we have our day-to-day battles because we are playing for different teams, but it is more in the press that they compare us for one reason or another. On our part, there has always been admiration and respect."

Messi was the star player as Barcelona won the treble of Champions League, La Liga and Spanish Cup last season, before also adding the Club World Cup last month.

Although he became the first ever player to win the award five times, Messi had said earlier that he would swap all those individual accolades for a World Cup success.

"Team awards are more important than individual ones," he said, before adding that the World Cup "is every player's objective, it's really the pinnacle".

Messi and his Argentina teammates came close to winning the World Cup in Brazil in 2014 but were beaten 1-0 by Germany in the final.