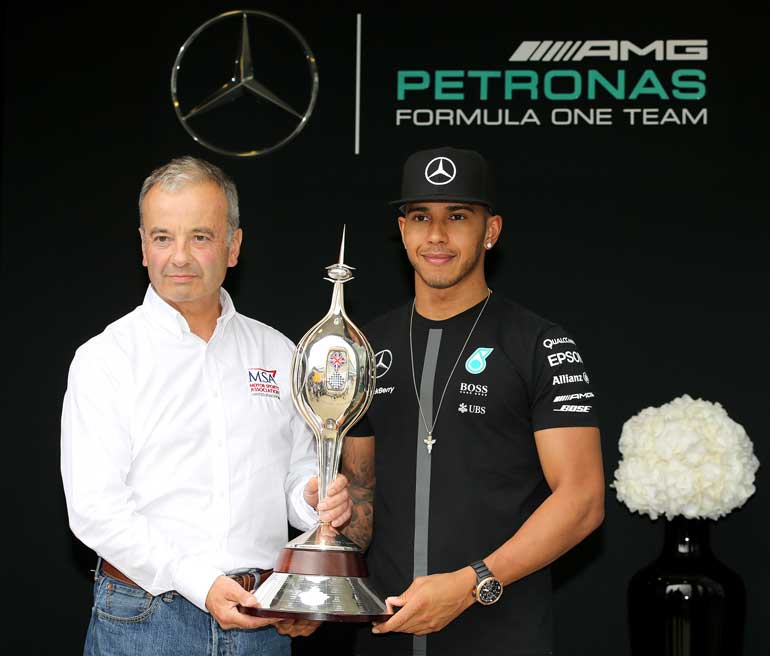 Mercedes' Lewis Hamilton of Britain poses with The Hawthorne Memorial Trophy, presented by Rob Jones, Chief Executive of the UK Motor Sports Association ahead of the British Grand Prix
Reuters: Double world champion Lewis Hamilton was handed one of the sport's most prestigious trophies on Thursday, only days after moaning about the poor quality of some of Formula One's podium prizes.

The Mercedes driver received the Hawthorn Memorial Trophy, awarded annually since 1959 to the most successful British or Commonwealth driver in the previous year's championship, at Silverstone.

A roll call of greats have won the trophy in the past, including Australian Jack Brabham, Stirling Moss, Jim Clark, Jackie Stewart, James Hunt, Nigel Mansell, Jacques Villeneuve and Damon Hill.

Hamilton won 11 races in 2014 on the way to his second championship.

"That's a real trophy," he said after collecting the memorial to Britain's first world champion Mike Hawthorn, who won the title with Ferrari in 1958 and died in a road accident a year later.

"To be amongst all these great names on here, that's what a real trophy should have -- all this history. When I am talking about trophies...this is what I'm talking about. This is class, this is history.

"It's real silverware. And that's what I race for. When I finish a race, that's the best reward you can get. I relate it to Olympians who go out there and get the gold medals. It's no cheap plastic, it's real."

Speaking earlier in the week, Hamilton had questioned the quality of some of the trophies he had been presented with on the podium.

"The last one in Austria was wooden, the whole thing was wooden. The base was like lead. I mean, what? It's supposed to be silver," he had said of the offering he received after finishing second to team mate Nico Rosberg at Spielberg.

Last year he had expressed his dissatisfaction with the 'plastic' trophies handed out at Silverstone by race sponsor Santander.

The winner of the British Grand Prix traditionally has his name engraved on the golden Royal Automobile Club (RAC) trophy, first awarded in 1948. Hamilton will be hoping to get his hands on that one as well on Sunday.