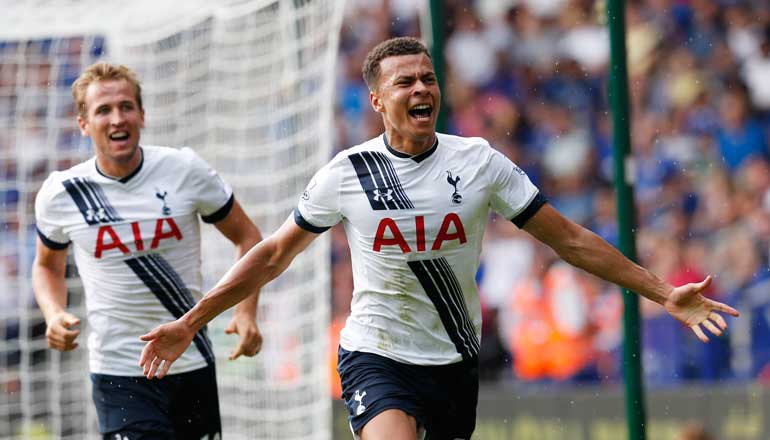 Dele Alli celebrates after scoring the first goal for Tottenham Reuters​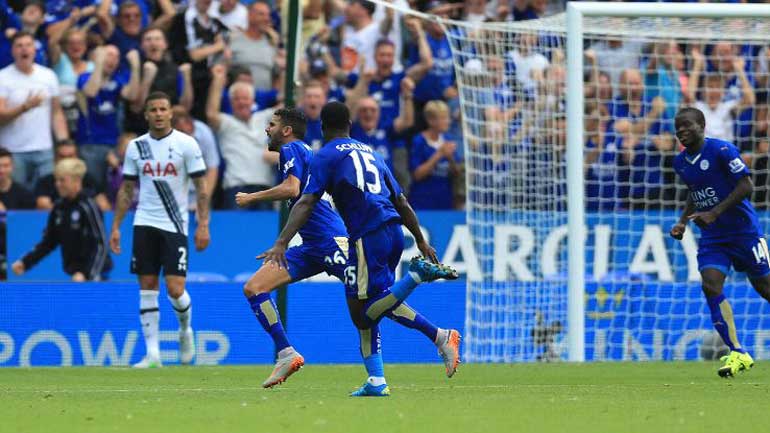 Riyad Mahrez scored his fourth goal of the season against Tottenham
Leicester's winning streak might be over, but for the third straight Saturday the Foxes closed the day top of the Premier League. The 1-1 draw with Tottenham, who did the double over Leicester last season, was almost as satisfying as the opening two victories over Sunderland and West Ham.

City will feel they should have won the game, with captain Wes Morgan almost proving an unlikely hero. Goalkeeper Hugo Lloris' hands are probably still stinging from the Jamaican's powerful header. However, Spurs more than played their part in an engaging and fair draw, with the second half one of the most entertaining 45 minutes in recent seasons.

Leicester looked organised at the back, despite falling asleep for Delle Ali's opener, while the pace of Jamie Vardy and Shinji Okazaki again wreaked havoc. The visitors will undoubtedly finish in the top half of the table and Leicester's hungry attack proved they can plausibly fire the Foxes to a similar position. More importantly, City displayed tremendous character and endeavour to respond so quickly after conceding -- a feat that was all the more impressive in such sweltering conditions.

The same so-called bouncebackability trait was evident in the early part of last season against Everton (2-2), Arsenal (2-2) and Manchester United (5-3). However since then, and even during the final 10 matches of 2014-15, Leicester usually had to score first or they ended games pointless.

The biggest compliment one can pay to manager Claudio Ranieri is that the team doesn't really look like his own. In other words, the transition from the Nigel Pearson era has been seamless. The players have continued where they left off last April and May as if the summer turmoil never happened.

Ranieri deserves massive credit for this. The Italian might profess to love his "Tinkerman" nickname, but it is fast wearing off. He is more a fine tuner or polisher at the moment.

The Leicester boss has fielded the same XI for the opening three games and thus resisted the urge to start N'Golo Kante or Gokhan Inler against Spurs. The duo definitely improve Leicester's midfield, but Andy King and Danny Drinkwater have both been superb to date and neither deserves to be dropped. The star man in midfield, however, is obviously Riyad Mahrez, who is now the Premier League's top scorer. The Algerian's four goals are all the more astonishing when you consider that's the same tally he managed all of last season.