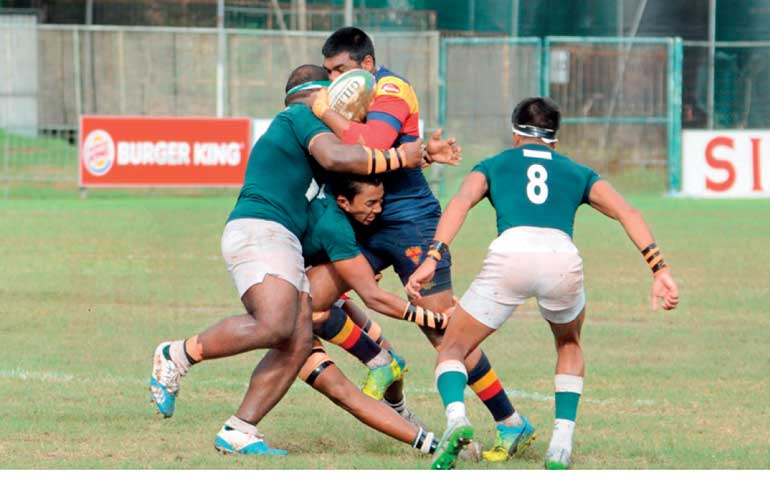 By Shamseer Jaleel

Isipathana vs. Royal and S. Thomas' vs. Science will decide the Singer League 2016 champions and whether it's going to be Pathana, Thomians or the Royalists. But on form, Pathana should have things their way to claim the trophy after a two-year wait.

Royal will defend the Major Milroy Fernando Trophy when they lock horns with unbeaten Isipathana who are the firm favourites not only to pull this off but for the Singer League as well. The Green Shirts who have superior set of three quarter line could be a major threat for the Reid Avenue outfit who lack good runners. But in forwards play, Royal hold the edge with their usual rolling maul which the Isipathana Coach Nilfer Ibrahim should find an answer for sooner rather than later. Only the Trinitians and Thomians were able to contain these forwards but none of the other schools were able to read this magic done throughout the season by the Royalists. Isipathana skipper Kushan Indunil, his deputy Sumudu Rankothge and Bandara the scrum half are superior players both in attack as well in defence.

Royal, led by burly number eight Nikila Gunadheera, got top class players such as replacement hooker Hisham Barie, Ayesh Maduranga, Nabil Mohammed and Maleesha Madhumewan all at their peak. Scrum half Ashok Vijaykumar and Askey kicking form too will be vital for Royal to create an upset in their Pathana game.

The S. Thomas' vs. Science game is evenly poised with both sides possessing a good set of forwards and three-quarters. Thomians defeated Antonians and the Peterites easily while the Science outfit edged out Trinity and Wesley.

Thomians are led by hooker Pandula de Silva and also have some top class players. While the Science outfit will heavily depend on Thanuja Maduranga, Tharindu Maduranga, Sanjula Roshan and scrum half Madumadawe.

Up in Kandy, Trinity will meet their big match cricket rivals, Katugastota Antonians at Pallekelle. Trinity though missed out on wins against Royal (first leg), S. Thomas', Science and Isipathana they have displayed good quality rugby by their forwards and three quarter line. They have improved in the last three to four games. Led by Rahul Karunathilake supported by Rukshan Dhammapala, Geshan Pethiyagoda, Shalindra Alahakoon and Anuk Boyagoda, Trinity look a formidable outfit.

The Antonians will heavily depend on their full back and place kicker Maduwantha who has taken a heavy shoulder this season. He is an outstanding player in defence as well in attack. His touch kicks found many metres in territory for the Katugastota lads.The Peterites are on number six position and will be out for a win but it will be a tough task as the Wesley outfit too improved considerably in round two.