Land Rover, the iconic British brand, has partnered the 2016 edition of the annual ranking tennis tournament of The Hill Club, Nuwara Eliya for the sixth consecutive year. The tournament will take place from 9 to 15 April at the club's courts in partnership with SML Frontier Automotive, the sole agents for Land Rover in Sri Lanka.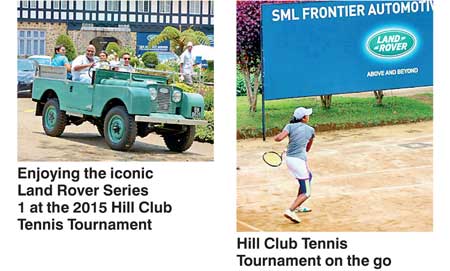 Commenting on the partnership, SML Frontier Automotive Managing Director Sheran Fernando stated: "Land Rover is proud to continue and strengthen our partnership with this ranking tournament which is one of the most prestigious events of the Nuwara Eliya season. The much anticipated tournament plays a pivotal role in the Sri Lanka Tennis Association's calendar and helps them identify talented players for the upcoming tournaments to represent Sri Lanka."

Fernando added: "Designed and engineered to meet any on road and off road challenge, the dynamic Range Rover Sport and the all-new Discovery Sport will also be featured during the seven days of the tournament. We welcome guests to get a first-hand experience and the pleasure of driving the vehicles themselves."

Land Rover aims to add verve and style to the forthcoming holiday season in 'Little England' at this year's tournament which will see over 90 players registered to compete in over 15 categories.