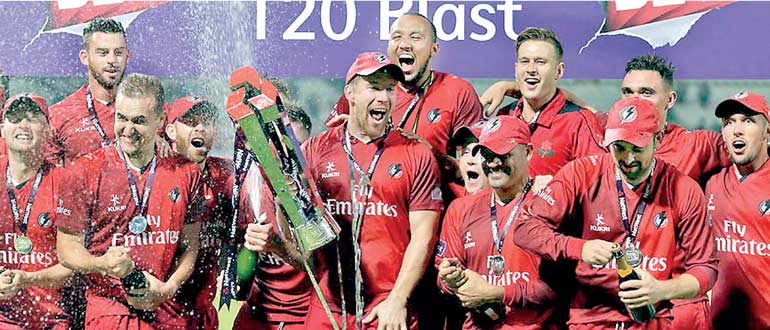 Steven Croft lifts the NatWest Blast trophy as Lancashire broke their duck – Getty Images
ESPNCricinfo: There have been many disappointments and much heartbreak along the way, but Lancashire have clinched their first limited-over silverware since 1999 with a 13-run victory over Northamptonshire in the final of the NatWest T20 Blast.

Since that 1999 success in the Sunday League, Lancashire have been defeated 15 times in the latter stages (quarter-finals, semi-finals or final) of limited-overs competitions. Five times previously they had reached T20 finals day and twice they had been thwarted in the final. It is no wonder they have earned a reputation as domestic cricket's version of South Africa.

So perhaps Ashley Giles will become known as the man who performed the Heimlich manoeuvre on Lancashire. In his first year in the role of director of cricket at Lancashire, Giles has overseen promotion (it would take a miracle to deny them at this stage) and this success.

This was a triumphant homecoming for the former Warwickshire coach. A few months ago, after Peter Moores was sacked as England coach, Giles was told not to bother applying for the role. His record was tainted, he was told. The world had moved on.

But this was a reminder that his record, at county level at least, is exceptional. His last season at Warwickshire, in 2012, saw the club win the County Championship, while two years before that, they won the CB40 trophy. He has surely wondered many times how different the course of his career might have been had England not choked so dramatically here in the final of the Champions Trophy in 2013.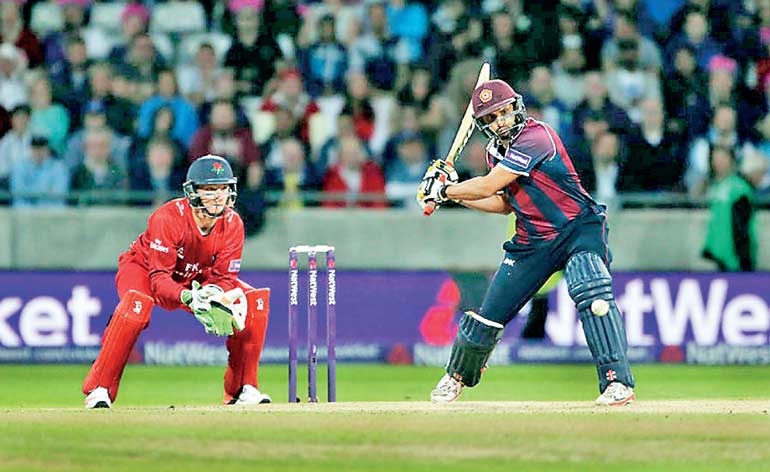 Shahid Afridi shared 50 with Josh Cobb, Northamptonshire v Lancashire, NatWest T20 Blast, Final, Edgbaston, 29 August, 2015


It is, therefore, not surprising that some at Edgbaston want him back to fill the vacancy of chief executive. Giles insists that he is thinking of nothing other than his role at Lancashire - and to see the anxiety etched on his face in the closing stages of this match, it would be hard to disagree - but he was burned by his period as England coach. Rarely given the chance to select the team he wanted, he has admitted that he would like his long-term future to involve more management and a bit less coaching. One day, he may well make a fine successor to Andrew Strauss as England's director of cricket.

Lancashire owed this success, in large part, to the stand of 77 their openers posted in the first nine overs of the match. There are those at the club who feel that Alex Davies could go on to enjoy an even better career than Jos Buttler and here - with 47 from 26 balls - the 21-year-old produced the most fluent batting of the day. He fully deserved the Man of the Match award.

Certainly he demonstrated a fine cricket brain and wide range of stroke. Showing that he had learned from the batsmen's struggles in the semi-finals, he tried to engineer more pace on to the bat from this slightly begrudging pitch by standing outside his crease and, while others slogged and heaved, he rarely tried to hit the ball too hard. Three times in the opening three overs he square drove for boundaries and, when Azharullah came on, he danced down the pitch and drove him over mid-off for another.

It was always likely that spin would play a dominant role in the final but Davies refused to let Graeme White settle, twice driving him over mid-off in his first over – once for four and once for six - and helping Lancashire post 67 from the first seven overs.

At one stage it looked as if they would score in excess of 180. But Shahid Afridi, appearing at Finals Day due to the benevolence of a local sponsor and his own goodwill, and David Willey bowled beautifully, and Lancashire lost four wickets in eight balls at one stage.

Liam Livingstone was bowled through the gate by a googly that turned prodigiously, James Faulkner drove to extra cover – not the first time his driving has got him into trouble this summer – and Karl Brown was caught down the leg side.

But Arron Lilley, an offspinner in whom the England selectors are taking interest, ensured some late impetus, helping Lancashire take 24 from the final two overs and give Lancashire a total that, in comparison with the other first-innings scores on the day (131 and 115) looked highly competitive.

If Northants were to go close, they probably required one of their openers to make a substantial contribution. But Richard Levi mistimed to mid-off and David Willey top-edged to midwicket - both men given a quite unnecessary send-off by the graceless Faulkner - and while Afridi and Josh Cobb swung merrily for a while, Lancashire always appeared to have a dozen too many.

Faulkner bowled with tremendous skill and heart – despite sustaining what appeared to be a dislocated finger when Afridi thumped the ball back at him – and the spinners were predictably frugal conceding just 67 runs in their combined 10 overs.

But perhaps it was the performance of George Edwards, playing just his sixth T20 match of the summer, and Gavin Griffiths, who made his T20 debut earlier in the afternoon, that will provide most satisfaction for Lancashire supporters. Both bowled with skill, control and calm in circumstances in which others might have struggled. Both have long careers in front of them for the club.

Whether Giles does remains to be seen. But such issues can wait. After many years of near misses, Lancashire have their limited-overs trophy and, after the pain of losing the England job, Giles has eloquently and classily proved his point.

Lancashire 166 (Davies 47, Prince 43, Afridi 3-14) beat Northamptonshire 153 for 6 (Cobb 44*) by 13 runs