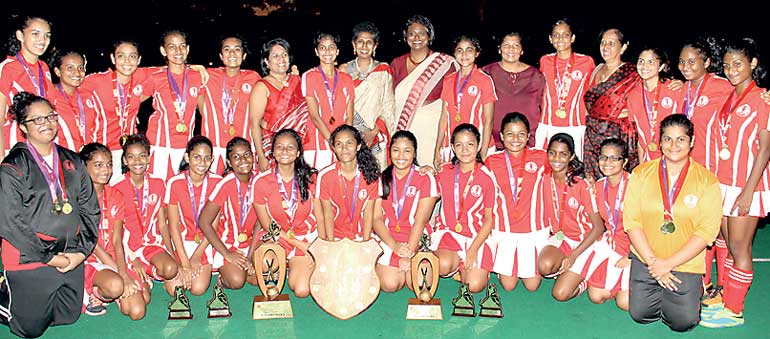 Ladies' College hockey team with their principal Eesha Speldewinde, vice principal Deepika Dassanaike and the chief guest

Nathasha Balendra

The 11th Annual Hockey Encounter between Ladies' College and Bishop's College took place on 3 October at Astro Turf Colombo. After two exciting matches the overall LC/BC Hockey Challenge Trophy was won by the Ladies' College Hockey Team.

The junior match was won by 1-0 and the senior match was also won by 1-0 after two exciting matches where they displayed all their talents skills in a well mannered game under the captain of Ladies' College, Ruwini Yeshani.

Yevinka Ellepola who performed well at both matches was awarded best goal keeper in both senior and junior category while Apsari Hendawithara and Ishanka Sewandi was awarded best defender at junior and senior category respectively.

In the under 17 match the goal was scored by Heshanthi Munasinghe and in the under 19 match the goal was scored by Anishka Gunasekara.

Since 2005, Ladies' College has won the trophy 7 times and Bishop's College has won it twice and they were declared joint champions twice.