AFP: India's star batsman Virat Kohli welcomed the return of tainted Pakistani player Mohammad Amir to international cricket on Tuesday, heaping praise on his bowling and wishing him all the best ahead of their Asia Cup contest in Dhaka.

Pakistan's chances in the tournament will partly depend on the 23-year-old left-armer, who served three months in jail for spot-fixing in a Test match against England at Lord's in 2010.

"He is a very skilful bowler and I wish him all the best. He worked hard to come this far and it takes a lot of courage," Kohli said in Dhaka Tuesday.

Amir was regarded as the hottest property in international cricket before the spot-fixing scandal, which also involved the then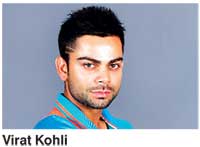 Pakistani captain Salman Butt and fellow bowler Mohammad Asif.

He made his comeback with the recent series against New Zealand, less than four months after completing his five-year ban.

"I am quite happy seeing that he realised his fault and rectified it, as well as went to New Zealand to represent his country," said Kohli.

"He had always been a world class cricketer and I have no doubt if he had played for the last five years he would have been among the top three bowlers in the world, considering his talent," he added.

India and Pakistan will renew cricket's most bitter rivalry this week when they face off in the Asia Cup, a contest for regional supremacy which is also a final rehearsal for the World T20.

The 12-day biennial tournament began in Dhaka on Wednesday with India and Pakistan scheduled to meet on 27 February at Dhaka's Sher-e-Bangla stadium.
Afridi reconsidering retirement from international cricket
AFP: Pakistan captain Shahid Afridi Wednesday said he was reconsidering plans to leave Twenty20 international cricket as he is facing pressure from his elder family members and close friends.

Afridi, who turns 36 next week, had retired from one-day cricket last year to add to his departure from the Test arena in 2010. He was due to retire from all international cricket after the World Twenty20 in India finishes in April.

But Afridi said he may continue playing Twenty20 cricket for his country.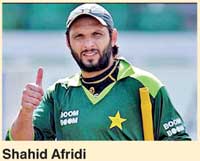 "I had announced that I will leave all cricket after the World Twenty20 in India but my elder family members and some friends are putting pressure on me to continue playing Twenty20 cricket, so I am thinking on that," Afridi told AFP before leaving for Bangladesh.

Afridi will also lead Pakistan in the five-nation Asia Cup which starts in Dhaka from Wednesday. Pakistan play India in their first match on Saturday.

Afridi said he takes all his decisions with mutual consultation.

"I have a family who told me that I retired from one-day on my own so I have to consider their advice on the Twenty20 retirement, but I have to look at all the factors before taking a final call," said Afridi.

Afridi is the highest wicket-taker in the shortest format of the game with 91 in 90 matches but his recent form has not been good.

"I have to look at the results of the team in the Asia Cup and then at World Twenty20 and that will help me take a final decision. We have not been doing well because we do not have quality youngsters coming up.

"So if I feel that the team needs me then I will continue but if I feel otherwise that I am taking place of a better player then I will leave."

Pakistan lost 3-0 to England in the United Arab Emirates in November last year and 2-1 in New Zealand last month – a performance which left them in sixth position in the Twenty20 rankings.