Drives Cusco Subaru EZY racing car at Australian Rally on 19-21 June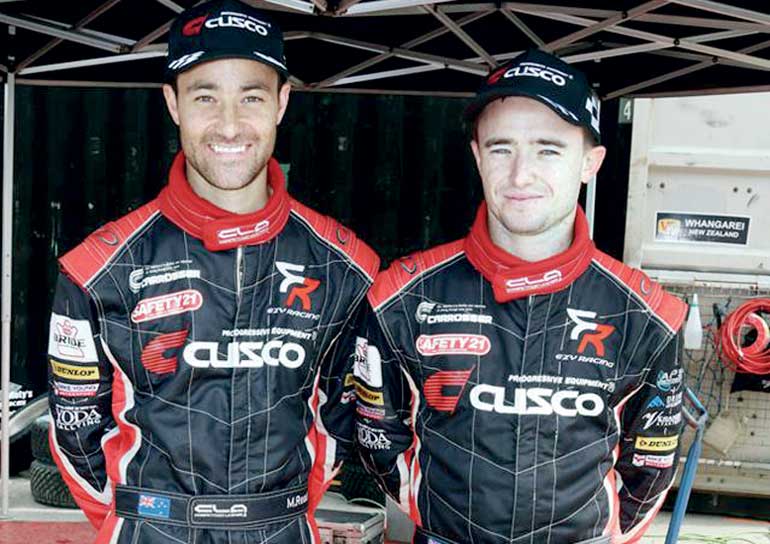 Mike Young and Co-Driver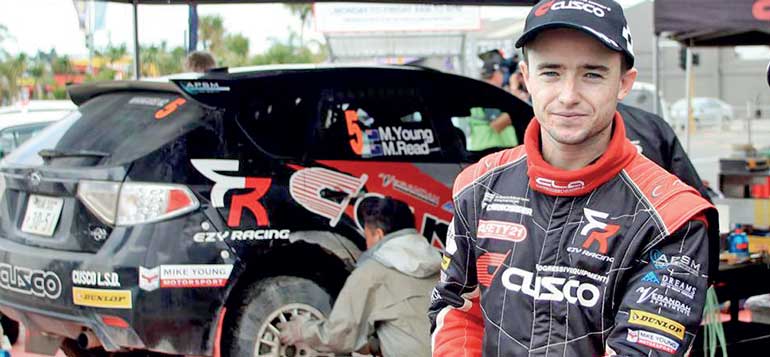 Mike Young
Queensland, Australia: EZY Racing, Sri Lanka's first-ever professional motor racing team to compete in a FIA sanctioned motor racing event in Asia Pacific, made yet another quantum leap to becoming a recognised motor racing team in Asia Pacific, when it signed up New Zealand driver Mike Young to represent EZY Racing Internationally in the Asia Pacific Rally Championship in 2015.

Young, who is considered to be one of the best new prospects in the Asia Pacific Rally circuit and has won triple APRC titles two years in a row and finished second overall in the 2014 APRC drivers' championship, will represent the Sri Lankan-based iconic motor racing team in this weekend's Asia Pacific Rally Championship Australian Leg, which will be held from 19 to 21 June in Queensland, Australia.

The Black and Red Team, who created history in the little South Asian island when they made an impactful debut in 2014 in the Asia Pacific Rally Championship, completed a successful inaugural year internationally.

"2014 was a year of learning for us. When we first competed in Malaysia we realized the demands of the sport if we were to be a front running contender. Throughout the season we kept analysing the gap we had in multiple facets to the front running teams. In 2015, we had to look at the sport from a fresh perspective. We realised that if we're to achieve our goal of making meaningful strides towards becoming a recognised motor racing team in the Asia Pacific region, we had to shake ourselves and move out of our comfort zone. Signing up with Young was the first step in this shake up," said Shafraz Hamzadeen, who incorporated the team in 2009.

Hamzadeen, who has successfully developed EZY Racing from a 'napkin plan' to a successful motor racing entity that's establishing its presence internationally, spoke of the rationale behind signing up Mike Young.

"Young has been the most exciting prospect that APRC has unearthed during the last five years. He has made his presence felt in APRC by winning rallies amongst the big boys while competing in the Junior Rally Championship which runs within the Asia Pacific Rally Championship. This year Young has officially graduated to compete in his first season outside of Junior Championship. We are very excited to partner with him on his new journey."

Young began his racing career at the tender age of eight in karting and at the age of 18, entered his first rally, the 2011 Rally of New Zealand, in a Nissan March. He won his class in that event and has not looked back since. In the same year Young competed in the Malaysian Rally Championship and a one-off event with the Cusco Racing team at Rally Hokkaido – the start of a four-year partnership.

With backing and guidance from Japanese-based Cusco, Young and co-driver Malcolm Read went onto win triple FIA APRC titles in 2013 and 2014 – titles that included the 2013 Asia Cup and the 2014 Production Cup, along with the Junior and two-wheel drive trophies.

Speaking about this sign up, Young commented: "The partnership with EZY Racing is very important as I can see they are an exciting enterprise and are taking motorsport seriously. Working together is a perfect fit for both of us as we build and develop our motorsport goals this year and look to the future. The Cusco team have given me a great opportunity this year moving to a four-wheel-drive car, and having EZY Racing on board makes the step-up a lot easier with their strong support. I'm really excited and the future is looking good."

Young will be driving a Cusco-powered Subaru WRX in the 2015 season. Japan-based Cusco Racing has been an active part of APRC for over 10 years and an instrumental part of Young's graduation process, starting with three years in two-wheel drive cars and in 2015 progressing to turbo-charged four-wheel drive which will power Young and EZY Racing.

Speaking further, Hamzadeen stated that the key learning that they had in their 2014 campaign was that consistency was the key ingredient for the success in international rallying. "One thing we realised last year was that the ability to be consistent was what separated front runners from the rest. This was demonstrated when Young finished second in the championship with a heavily underpowered car in 2014. In 2015, we hope to further consolidate our strategy. We know that success in international terrain cannot be achieved in a short time. You need the correct resources in place. In this context, the partnership with Young is the first step towards fulfilling this ambition of ours and together with Cusco we believe we have all the ingredients in place to be competitive this season and challenge for podiums."

EZY Racing will be seen in action in Queensland from 19 to 21 June competing in the Australian leg of the Asia Pacific Rally Championship with Mike Young behind the Cusco Subaru EZY Racing car. More details on the EZY Racing's Australian Rally will be available on www.fb.com/ezyracing.