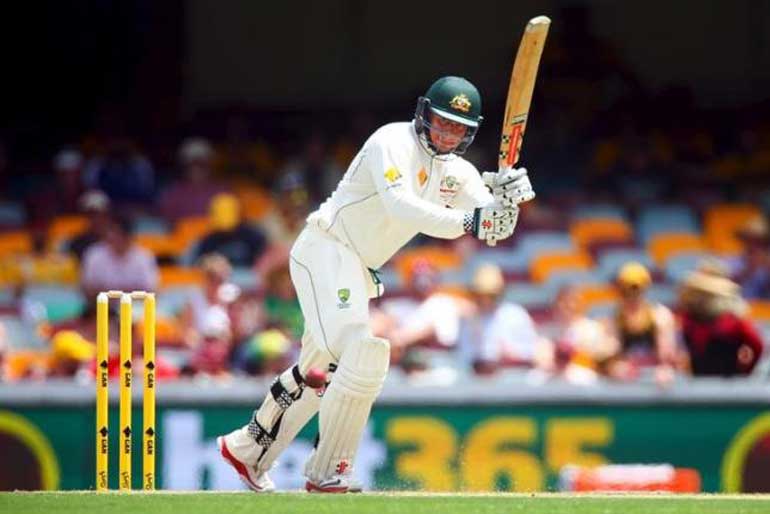 Australian batsman Usman Khawaja drives a wide delivery during the first cricket test match between Australia and New Zealand in Brisbane - REUTERS
Reuters: Nearly five years after Usman Khawaja made his test debut to great fanfare, the Australian has finally posted the numbers to justify the hype.

Richly talented with a languid style that recalls David Gowar, the Pakistan-born batsman was hailed as Australia's future when he stood in for the injured Ricky Ponting in the final test of the 2010-11 Ashes series.

Rarely can innings of 37 and 21 from a number three batsman at the Sydney Cricket Ground have been lauded so highly, as the hosts looked for the slightest grounds for optimism after a humiliating 3-1 series defeat.

Eight more test match appearances over the ensuing half decade bear witness to a potential unfulfilled, however, and it was not until a string of batting stalwarts retired in the wake of the latest Ashes failure that he got another opportunity.

The 28-year-old cannot be accused of failing to grasp the chance with both hands against New Zealand at the Gabba.

Showing no signs of nerves despite more than two years since his last test, Khawaja joined in Australia's run spree on Thursday to notch up his maiden test century.

Eschewing his usually cautious approach, he raced to the milestone with an array of sometimes sublime strokes, including two sixes that proved that elegance can get the ball over the boundary rope just as effectively as power.

"To be honest, I was just batting, I wasn't really thinking much, I was just playing cricket," he told Channel Nine on Friday.

"Once you get on the field, it's always the same way, whether you're playing a test match or club cricket, I feel the same way."

Although generally a reserved character, there was clearly some emotion when he brought up the century he had once dreamed about.

"I think everyone has dreams about cricket and one of them was getting a hundred for Australia," he said.

"I did wake up and it was one of those times where I wished I hadn't. Obviously, to get that yesterday was a dream come true.

"I was just so happy, so relieved. And I was just so happy to do it in Brisbane, at the Gabba, where my home is now."

The move from New South Wales to Queensland in 2012 has reinvigorated his career and might have brought a return to the test arena sooner were it not for a knee injury that sidelined him for nine months in 2014.

Unbeaten on 102 overnight, Khawaja returned to complete his innings on Friday.

More circumspect against improved New Zealand bowling in the morning, he edged his way towards lunch with ones and twos, determined to put on a big score.

He loosened up as Australia raced to a declaration in the afternoon and when the end came, he had batted for 379 minutes and faced 239 balls, scoring 16 fours and those two sixes.

If his dismissal was disappointing – a mistimed reverse sweep off Kane Williamson's occasional spin – there is little doubt that his 174 runs have secured him the number three test berth for some time to come.