By Shamseer Jaleel

Peterite playmaker and master of footwork, Kevin Dixon was appointed the skipper of the Sri Lanka Youth Under 20 rugby team for their tour of Malaysia on 15 and 16 August and Hong Kong August on 22 and 23 August.

The Sri Lanka Youth team left the island this morning to Malaysia for the first leg of the Asian Sevens series.

Dixon also led the Sri Lanka Under 18 rugby team at the Junior Youth Games in 2013. Three players each from St. Peter's and Science College are present in the team. The surprise omission is this year's Science skipper Lasindu Ishan, who failed to secure a place in the first 12 leaving him as the first standby on tour.

The team is coached by former Peterite and Science coach Colin Denish with Rajeev Perera assisting him.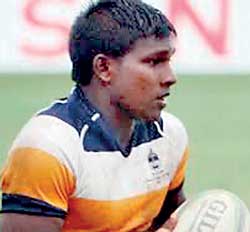 Touring squad

Kevin Dixon (Captain) (St. Peter's/Havelocks SC), Omalka Gunarathne (Isipathana/Navy SC), Nishon Perera(St. Peter's/Havelocks), Shamri Burah (St. Peter's/Havelocks SC), Reeza Raffaideen (Kingswood /Police SC), Prince Chamara (Science/CR&FC), Rehan Silva (Isipathana), Buddhima Piyarathna (D.S. Senanayake), Sajith Silva (Science), Supun Dilshan (Science College), Sithum Peris (Wesley /CR & FC) and Chamika Kusal (Wesley).

Standby: Lasindu Ishan (Science), Kushan Indunil (Isipathana), Asitha Punchihewa (Isipathana), Senal Deelaka (Isipathana) and Thanuja Maduranga (Science)