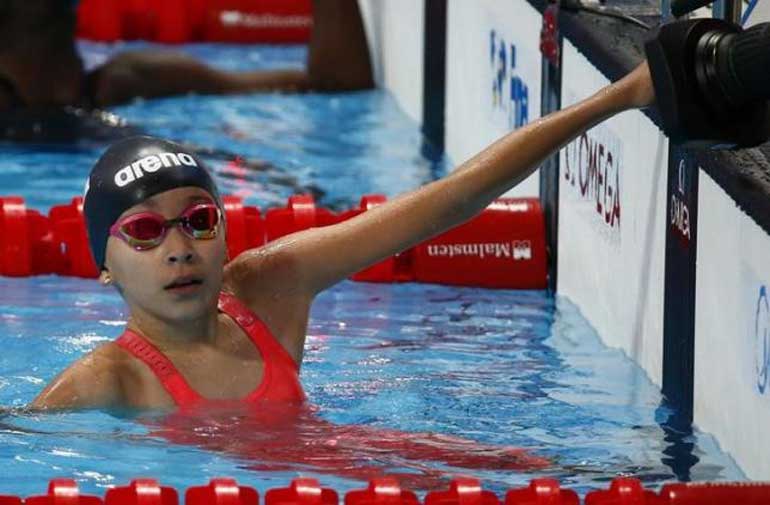 Tareq Alzain of Bahrain, aged 10, looks at the scoreboard after the women's 50m freestyle heats at the Aquatics World Championships in Kazan, Russia, 8 August 2015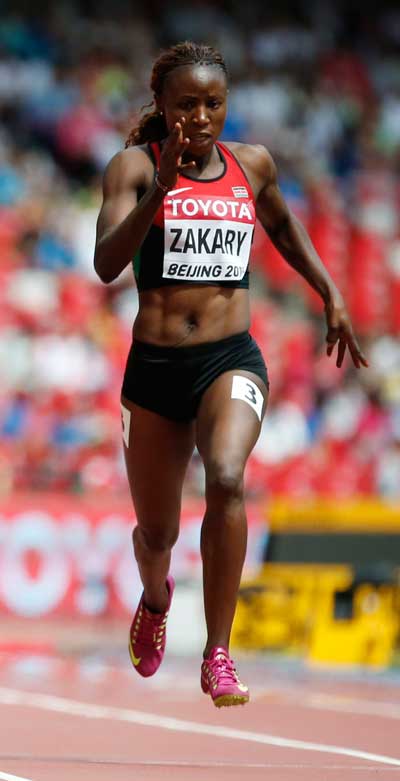 Joyce Zakary of Kenya competes in her women's 400 metres heat at the 15th IAAF World Championships at the National Stadium in Beijing, China 24 August. Zakary and compatriot Koki Manunga have been handed provisional bans after testing positive for the use of banned substances at the world championships, the International Association of Athletics Federations said on 26 August. Picture taken 24 August – Reuters
Kenyan athletes Koki Manunga and Joyce Zakary have been handed provisional bans after failing doping tests at the world championships, the International Association of Athletics Federations (IAAF) said on Wednesday.

The runners were targeted in pre-competition tests at their team hotel in Beijing on 20 and 21 August, the IAAF said in a statement.

The IAAF has spent the last month defending itself against accusations that it is soft on doping after data from thousands of blood samples were leaked to the media.

While critics of the IAAF might point to the positive tests as further evidence of widespread doping in the sport, the governing body is likely to see this as proof that their targeted testing is effective in weeding out drug cheats.

Zakary, 29, ran a Kenyan record of 50.71 in the heat of the 400 metres in Beijing but failed to start the semi-final.

Manunga, 21, finished sixth in her heat in the 400 hurdles last Sunday and failed to progress to the next round.
FINA to consider minimum age limits for world champs
The 10-year-old Bahraini girl who competed at this month's world championships in Russia could end up holding a record that will never be beaten if swimming officials push ahead with plans to close the loophole that allowed her to race.

Despite failing to reach the minimum qualifying standards, Alzain Tareq became the youngest competitor ever to race at the championships when she competed in the heats of the women's 50-metre freestyle and 50-metre butterfly at Kazan earlier this month.

She was allowed to compete because of a rule which permits each nation to have some limited representation but does not have any age restrictions.

Hopelessly out of her depth, the pint-sized Tareq finished 105th in freestyle and last in butterfly but became one of the feel-good stories of the championships, attracting international media attention.

However, swimming's world governing body FINA is now considering adding a clause on minimum ages at future world championships.

FINA Executive Director Cornel Marculescu told Reuters at the junior world swimming championships, currently taking place in Singapore, that the loophole could be closed before the end of the year. "We have age rules for the juniors, and for all the other disciplines at the world championships, but in swimming we don't have limits," Marculescu said. "Now this story has come up, probably we will look at this at our next (FINA) meeting we have in November in Dubai."

Although Tareq was allowed to swim at the senior world championships, she is still too young to swim at the junior worlds because the minimum age for girls is 14.

Not everyone was taken by Tareq's participation in Russia, with FINA facing criticism for letting her swim at the sport's marquee event.

"There are some positives still there," Marculescu said.

"It depends on how you want to look at it. There are two sides of the coin, do you want to look at the positive one or the negative one?"