by Madushka Balasuriya
​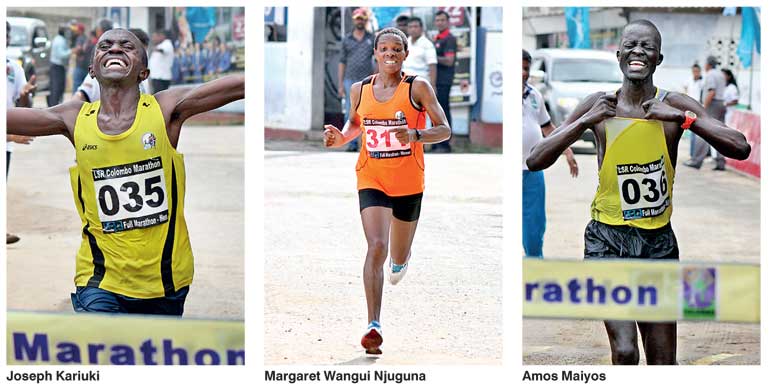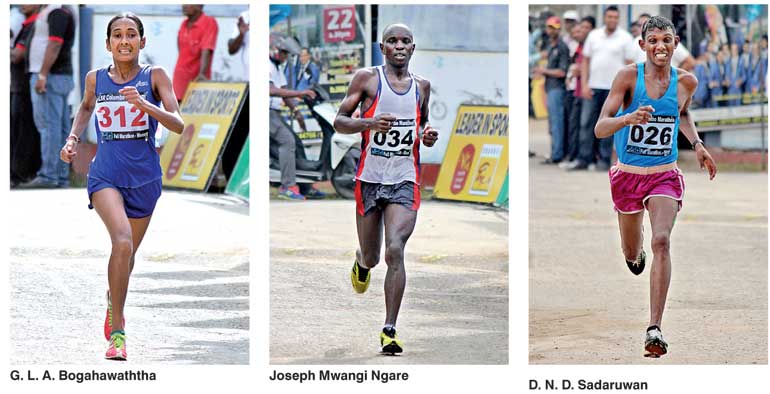 Joseph Kariuki and Margaret Wangui Njuguna ensured Kenya's domination of the Colombo Marathon's two main events on Sunday, as runners from the African nation claimed five of the six available podium finishes.

The Colombo Marathon kicked off on Sunday from Independence Square in Colombo, and spanned 42.195 km to Negombo Beach Park, with over 6500 runners taking part. But like last year Kenya's pedigree for producing long-distance runners came to the fore, exemplified in the men's full marathon where they claimed the top three spots with Amos Maiyos (2:25:45) and Joseph Mwangi Ngare (2:26:59) coming second and third respectively, close behind Kariuki who finished in 2 hours 25 minutes and 32 seconds. D.N.D. Sadaruwan (2:28:40) came in fourth and was the first of the Sri Lankans to finish.

In the women's full marathon, Sri Lanka's B.G.L.A. Bogahawaththa (2:56:04) failed to repeat last year's heroics, being pipped to first place by Njuguna (2:53:47), despite bettering her 2015 time by six minutes. Another Kenyan, Susan Kosgei (3:02:22), rounded out the podium finishers coming in third.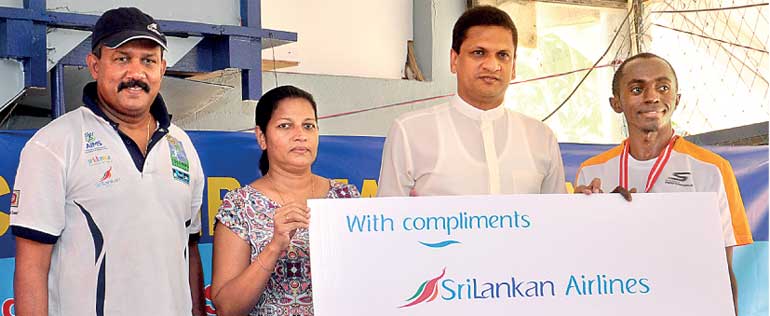 The men's full marathon for veterans, however, saw some joy for Sri Lanka, with Sunil Premaratne taking home first place in a time of 3:18:43. The veteran women's full marathon, meanwhile, was won by Hiroe Ioka of Japan in a time of 4:17:18.

The half marathon was almost completely dominated by Sri Lankan runners with them monopolising the top 10 in the men's category, as Kumar Shanmugeshwaran won the event in a time of 1:10:12. In the women's category Sri Lanka's K. M. S. M. Wickkramasooriya (1:27:58) and W. D. Malkanthi (1:28:21) came second and third respectively, with only Naomi Wambul Muniuki from Kenya, in a time of 1:25:57, preventing a Lankan clean sweep.

The veteran's half marathon was also an all Sri Lankan affair with N. V. Udayashanthasiri (1:27:49) and Dinar Boddin (2:33:44) winning the men's and women's categories respectively, while the fun runs saw Sri Lankan winners with W. A. Buddhika Chathuranga (35:46:08) winning the 10 km men's and B. M. N. K. Senanayaka (43:33) clinching the win in the 10 km women's category.



There were also 5 km fun-runs in men, women, school boys and school girls categories, which were won by M. A. Tharindu Danushka, H. Iresha Sandarenu Fernando, Sachendra Ramesh and W. G. Dinusha, respectively.

This was the 16th year that the LSR Colombo Marathon was held, and it will be the final one to use the scenic Colombo - Negombo route. From next year onwards it has been announced that the marathon will be a true city marathon, with Colombo set to host it within the city limits.
Pix by Ruwan Welpola
​