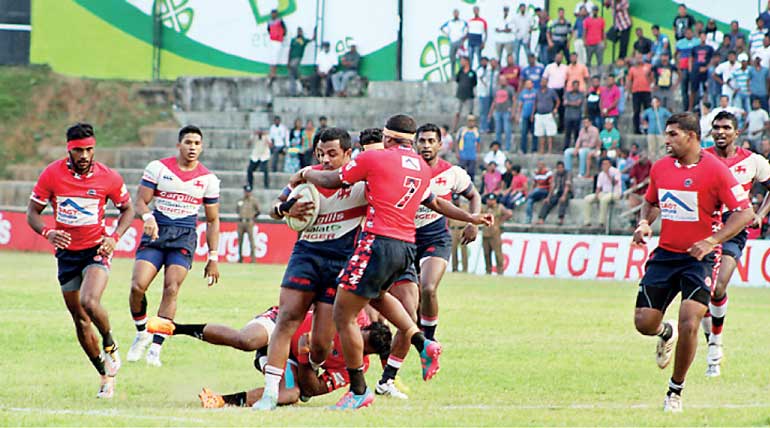 By Shamseer Jaleel

Kandy SC=15 points

CR & FC=12 Points

Unbeaten League and Clifford Cup champions not only continued their unbeaten run but also notched up a close win over their traditional rivals CR & FC 15/12 in a closely-fought encounter which took place at the Nittawela Rugby Stadium last week-end.

CR dominated on territorial advantage but was not able to convert them into points. Kandy were forced to defend most part of the game and did well not to concede too many penalties against them. Nigel Ratwatte scored the first try for Kandy and converted the corner flag kick beautifully. CR replied through a forwards try by burly number 8, Arun Kumara, which was converted by Kanchana Ramanayake. Earlier Prince Chamara was off target in his first penalty attempt of the game.

After the turnaround Kandy soon scored through Hooker Damith Dissanayake. But rest of the second half Kandy was forced to defend the "Red Shirt" who attacked in Kandy 5 meter line. Their three quarter line got hardly any space to run the ball. CR on their part missed nearly three scoring opportunities by splitting the ball committing basic errors. At last CR saw the try line, scoring by left corner through Prop Kokila Suriyapperuma but it was too late for a re-start as Kandy not only ran out winners but also kept their unbeaten tag intact.

Close call for Havies

Havelocks SC=27 Points

Police SC=24 Points

Havies edged out the Cops in a thriller by 27/24. Once again Police Number 8 Radheesha Senarathne was in peak form in defense as well in attack splitting the Havies defense all over. He being outstanding in the second row continuing his consistent performance in the league for the Cops.

Havies had a narrow shave and was able to keep the number 2 spot behind Kandy. For the Cops Sharo Fernando, Radeesha Senarathne and Reza Mubarak stood out. For the Havies Rimzi Jamaldeen, Rehan Thiagarajah and Madushanka played their hearts out.

Air Force

outclass CH

Air Force =26 Points

CH & FC=15 points

Air Force outclassed the bottom placed CH & FC and avoided any wins for the Colombo Club who are fielding majority of fresher in their starting line-up. Air Force who led 15/5 at the "short breather" completed a good win which they missed out for a long time not playing good rugby for the entire 80 minutes of play. CH participation for the Clifford Cup faded away with the performances hitting on the lower side.

Navy edge out

the Sailors

Navy SC=32 points

Army SC=30 points

Navy edged out the Sailors in a tensed battle at Diyagama last weekend. Sailors after leading 15/13 at the short breather for the Welisara lads Kosala Tissera, Dinusha Fernando and Omalka Gunaratne played well while for the Solders once again full back Gayan Salinda was in peak form in kicking and touch kicks gaining much-needed territory for the Army outfit.