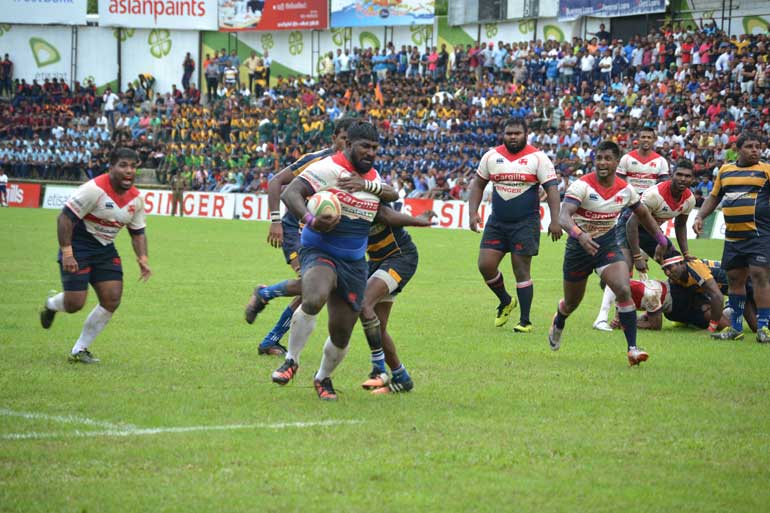 Kandy S skipper Fazil Marija in attacking way against the Solders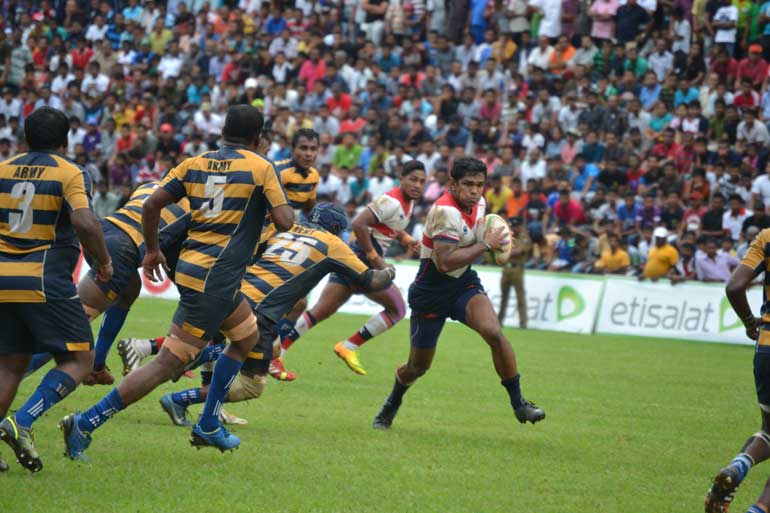 Kandy S Prop forward Piyumal Manchanayake on attacking way with support coming in from his team mates
By Shamzeer Jaleel

Kandy - 44 Points

Army - 8 Points

Kandy missed out on their fourth consecutive 50 plus score in their current inter-club rugby season but nevertheless did come close when they cut loose in the second half to beat Army by 44 points (4 goals, 2 tries, 2 penalties) to 8 points (1 try, 1 penalty) at the Nittawela Rugby Stadium yesterday.

At halftime Kandy led 15-8.

Both forwards displayed quality rugby in the first half. Army for their part defended well, slowing down the pace of the game which did not suite the home team who possess some quick three quarters. For the soldiers skipper Jayalal, fullback Gayan Salinda and centre Dilushan Ariyapala enjoyed standout performances. For Kandy it was skipper Fazil Marija, Richard Dharmapala, Arshard Jamaldeen, Sayuru Anthony and Uchitha Jayasuriya who were top notch.

Army drew first blood in the fifth minute of the game when the Kandy line was caught offside. Fullback Gayan Salinda was on target with the 35-meter penalty kick. But Kandy too got two kickable penalties in the 8th and 12th minute of the game but Arshard Jamaldeen missed out on both chances.

However, he did make his first penalty conversion in the 14th minute of the game after Army was penalised for a deliberate knock-on.

Army was once again the first to breach the Kandy line when Nigel Ratwatte knocked the ball on when trying to clear the ball from Kandyan territory. Army Centre Dilusha Ariyapala scored the only try for the Soldiers to give them an 8-3 lead.

But Kandy regrouped and kept on attacking the Army half. Their efforts finally bore fruit when they manufactured a try through Prop Kishore Jehan. Jamaldeen was on target with the kick at goal. Fifteen minutes later through another forwards rush, the other prop forward Piyumal Manchanayake touched down to make the score at lemons at 15-8.

After the turnaround Kandy broke free through their three quarter line with more space to run. Tries were scored for the defending champions through Fazil Marija, Richard Dharmapala (2) and Shashika Jayawardena.

Jamaldeen was on target with three of his try conversions and also put over a penalty. Kandy had two yellow cards while Army had one but were lucky to escape when Ratwatte was undercut in an offence which went unnoticed by the referee. The game was refereed by Priyantha Gunaratne while the match Commissioner was Kavinda Jayasena.