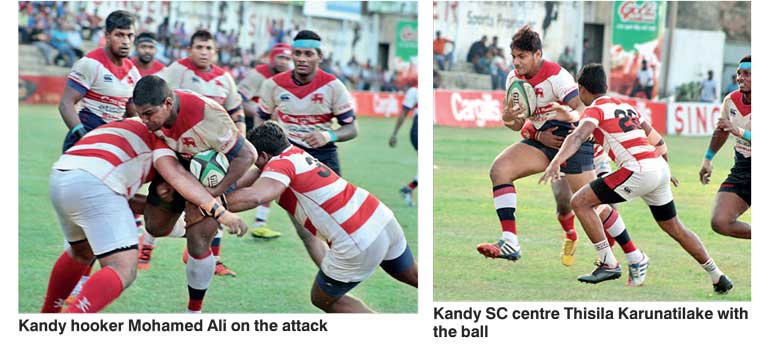 By Shamseer Jaleel

Defending Clifford Cup champions Kandy Sports Club kicked off the Clifford Cup by sending out a warning to other clubs who could come their way in the semifinal and possibly in the final when they outclassed CH&FC by 89 Points (12 goals, one try) to seven points (1 goal) at the Nittawela Rugby Stadium.

At the short breather Kandy led 28-7. Kandy came into this game missing out on Fazil Marija, Lavanga Perera, Shehan Pathirana, Anurudha Wilwara, Buwanka Udangamuwa but showed their intentions very clearly when they ran in a 13-try blitz in a one-sided affair in front of a half empty stadium. They scored tries on almost every single move they made. Damith Dissnayake, Srinarth Sooriyabandara (2), Shasika Jayawardena (2) Richard Dharmapala (2), Lochana Giriyagama (2), Thilina Wijesighe (2), Thisila Karunaratne and Roshan Weeraratne scored for Kandy. Try conversions were taken by Nigel Ratwatte, Arshard Jamaldeen and Thilina Wijesinghe. For CH, their only try was scored by Prabath Jayalath with Prasad Perera converting. All credit should be given to CH's young outfit for ending the season without pulling out at half way. They went through a tough time due to not having a proper ground for their training, no sponsor and no big names in their outfit.

Kandy will lock horns with either Police or Navy in one of the semifinals which will be worked off at the Trinity College Pallekelle Rugby Stadium next weekend. Kandy, having secured the Clifford Cup a record 19 times are the leading team to clinch it this year as well with consistent performances.

A Superb second half rally by the Red Shirts helped down the spirited Soldiers 35-26 in one of the quarter final encounters at the Race Course rugby grounds. At the short breather, it was the Soldiers who led 14-10. Kanchana Ramanayake of the "Red Shirts" stood out. With this win CR will play their traditional rivals Havies in one of the semi-final encounters.

Havies moved into the semifinal of the Clifford Cup with an unimpressive 20-11 win over the spirited Air Force outfit. Havies, who ended at number two will need to fire on all cylinders to get over the CR&FC outfit.

The fourth quarter final encounter of the Clifford Cup rugby will be worked off today when the Cops take on the Sailors at the Race Course rugby grounds. A close tussle is expected with the winners needing to travel up to Kandy next weekend to meet the defending champions, Kandy SC.