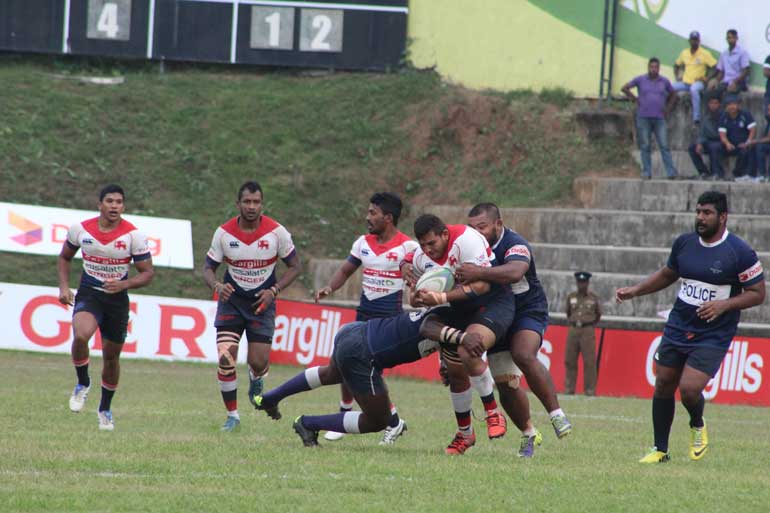 Kandy prop Attanagalle is well held by Achala Perera of Police
By Shamseer Jaleel

Kandy SC=44 points

Police SC=17 points

Kandy continued their winning and unbeaten streak in the Inter Club League rugby tournament when they outclassed Cops by 44/17 playing minus their skipper and play maker Fazil Marija. But the main worry for Kandy in this game was the injury for Lavanga Perera. The ankle injury could keep the star out of action for at least for one month with a dislocated and broken ankle. This will be bad news for Kandy for the rest of the games.

For the champion outfit their Centre, Richard Dharmapala was in top form scoring a hat trick of tries which floored the Cops. Kandy scored seven tries but their conversion accuracy once again hit to a low end with Nigel Ratwatte missing out on three easy conversions. While for the Cops Musheen Faleel, Reza Mubarak and Radhesha Senratne stood with an excellent outing both in defense as well in attack. Police missed the services of their start Mohamed Sheriff who was on coaching stint at the School sevens where he was in charge of the Peterite outfit this year.

Havelocks SC=20 points

Navy SC=20 points

Havies came back in the second half to end in a thrilling draw against the Sailors under lights. Unfortunately the game had two stoppages due to power failure in the light systems at Havies. This should be looked in to by the hosting club in future games as the Navy was at the receiving end due to this technical fault. Navy led 13/10 at the short breather. With the game approaching the last quarter, Navy received two penalties within kicking range but their full back and place-kicker Thilina Weerasinghe failed with the conversions on both occasions. Navy were leading 20/13 with 5 minutes of play left then Havelocks prop-forward Dushmantha Priyadharshana powered his way for the try and Rimzie Jamaldeen converted to level the scores at 20 a-piece.

CR & FC=66 points

CH & FC=11 points

A revamped "Red Shirts" outclassed last placed CH & FC in a one sided affair 66/11. CR & FC getting back to form wining all their three second round encounters. Lads from Longdon Place went on the rampage resuming from their half time score of 33/6 showing no mercy for the youngsters from CH who finding it tough in the league for survival. Good news for the CR camps was that the former Trinity skipper and rugby "Lion" Tharinda Ratwatte taking the field after brief illness was in top form.

Army SC=20 points

Air Force=16 points

Air Force was leading 16/10 at one point but back to back tries by Dikkumbura grounded the air men. On both occasions Army scored attacking from their own 10 metre line due to going for too many options instead of basic play.