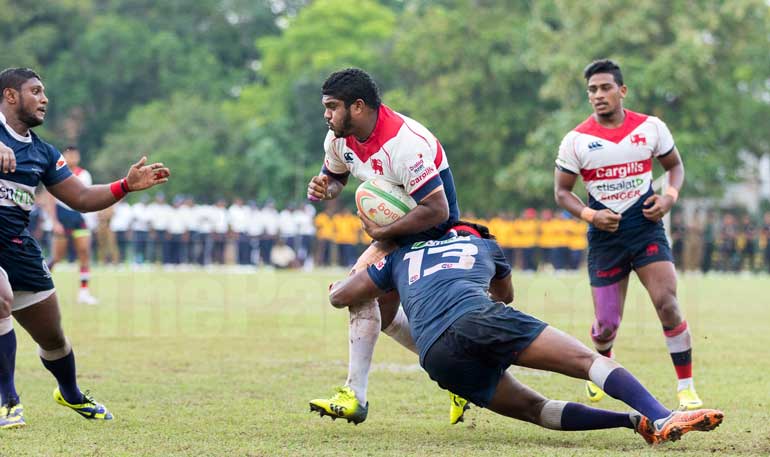 Kandy Hooker Damith Dissanayake on the charge
By Shamzeer Jaleel

Kandy look unstoppable in the inter-club league, scoring 50 points for the third occasion this season as they beat the formidable Police outfit 50-13.

Police, who have some big names, failed to live up to expectations with only Bilal Hassen, Mohamed Sheriff and Mushaeen Faleel doing the bulk of the work.

The Cops also looked to adopt rough tactics most of the time which left one of their player Sharo Fernando red-carded. Kandy too lost their cool and saw four of their players sent to the sin bin. In total there were six yellow cards and one red card in the game.

For Kandy, skipper Fazil Marija had an outstanding game, going on to score three tries. Kandy dominated through their lightning fast back division with the help of Rchard Dharmapala and Gayan Weeraratne. Kandy's forwards too were mobile though they fielded no big names in their starting line-up.

All credit should be given to their Coach Sean Wijesinghe who has done a remarkable job handling the team in his very first coaching stint.

This week's proceedings commenced with the game between CH&FC and CR&FC, which the Longden Place club won 45-7 with national Sevens player Kanchana Ramanayake being omnipresent. CH, who are struggling this season after heavy losses to Kandy and Police, will have a tough season ahead. CH&FC for their part missed out on two scoring opportunities in this game which could have given them a morale boost for the rest of the games.

Havies edged out the Navy 16-13 at Welisara after leading 10-6 at halftime. For Havies, a try was scored by Prasad Maushan with Rimzy Jamaldeen once again having a grand kicking outing, putting over three penalties and one try conversion.

The Park club, who are celebrating their centenary year, survived yet another day to be unbeaten along with the defending champions Kandy.

In the last match of the week Army beat the Air Force 37-25 at Diyagama.