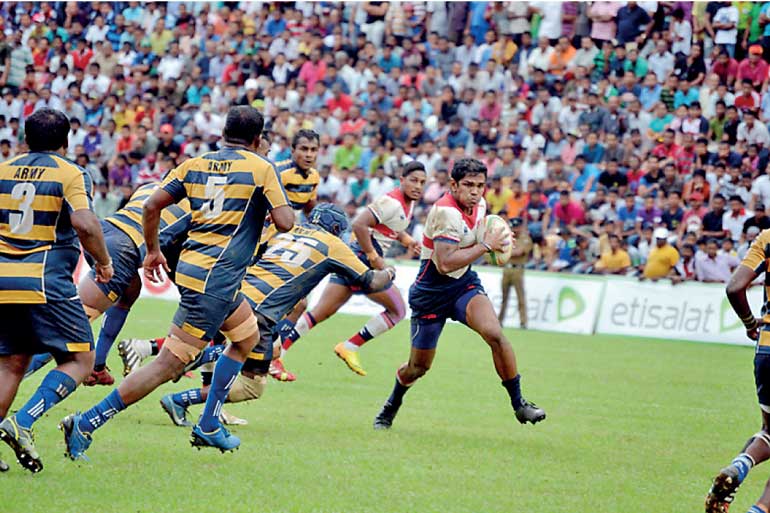 By Shamseer Jaleel

Defending League champions, Kandy Sports Club and last year's league runner-up Havelocks SC both continued their unbeaten run in this year's Inter-Club League Rugby encounters which concluded last weekend.

Navy SC started this week's matches when they went past a helpless CH&FC who will find continuity an issue in the second round. They got another thumping defeat when the Sailors scored an easy 67-6 win over them, who at one time in the mid and late nineties were the leading rugby club in the country.

Pick of week four was the battle between the Red Shirts and the Cops which turned out to be a battle between the three quarters of both sides. In the end, the Longdon Place club won 22-12. CR&FC scored three tries while the Cops replied with two. Once again for the Cops, it was "Iron Man" Bilala Hassen who stood out. He was omnipresent in defence as well as in attack splitting the CR&FC defence. Kavindu de Costa and Kanchana Ramanayake were outstanding for CR&FC. This win is assured to give some lost confidence to Imthisam Marrikar's boys.

Havies, after dominating proceedings in the first half were able to beat the Air Force who played well in the later half. Havies went on to complete a four tries against the Air Force who scored a solitary try.

Meanwhile, Kandy continued their unbeaten run and thumped up their fourth win this season and third at home when they made the Soldiers sweat at Nittawela with an unanswered four tries in the second half to win 44-8. Though the Soldiers defended well in the initial half it was too much for them to stop the national three quarter line comprising Fazil Marija, Richard Darmapala, Gayan Weeraratne and Lavanga Perera who broke free in the last 30 minutes of the game.