Kandy SC=63 Points
Air Force=12 points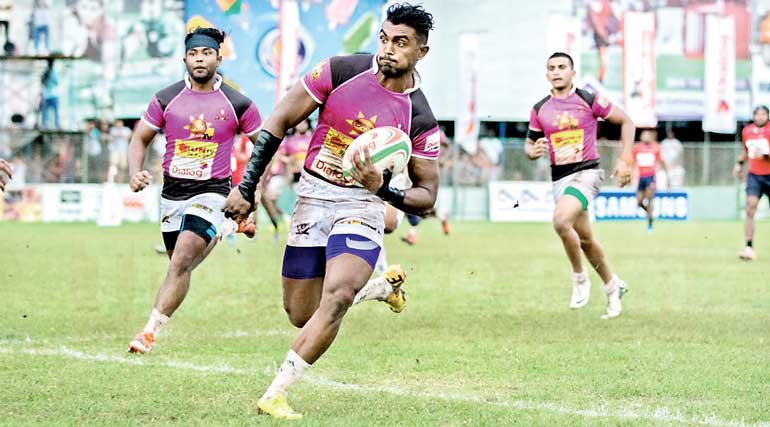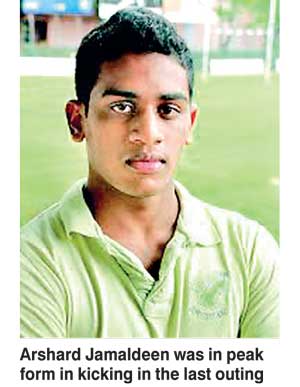 By Shamseer Jaleel

Defending league champions, Kandy Sports Club and one of the strongest contenders for the league this year, Havelocks SC continued their unbeaten run at the end of week two of the league which concluded last week-end.

Kandy SC once again dominated proceedings after a late start piling up points at will. Air Force defended well with some very good cover tackles which kept the home team away from scoring. But the caged "Lions" were out in grand style when they scored nine unanswered tries which the Air Force could reply with only with four penalty kicks at goal. Kandy to date have not only beaten both CH & FC and Air Force but also defended their line without allowing their two visitors to score any tries. Kandy SC full back Arshard Jamaldeen was in peak form at place kicks putting over some beautiful corner flag kicks on six occasions.

Kandy SC once again missed out on three of their leading players due to injury. Shehan Pathirana, Anurudha Wilwara and Nigel Ratwatte did not take the field but will be fit for next week-ends crunch battle against the Cops in Colombo. In the end Kandy ran out winners 63/12 achieving their second half a century plus score this season.

Police =62 Points; CH & FC=0 Points

CH & FC continued their losing streak and conceded over 50 points plus in their second game. After being beaten by Kandy two weeks ago 80/3 nothing was going their way when the young blood Cops outclassed the inexperienced CH & FC 62 to nothing.

For the Police SC Reza Mubarak and 'Iron man' Bilal Hassen stood out with some excellent attacking rugby. Reza's kicking will be a bonus in the next few games against Havies and Kandy SC. Continuity in the league for the Maitland Crescent club looks very cloudy.

Havelocks SC=34 points | CR & FC=18 points

Havelocks SC continued their winning streak handing off two of their closest opponents on their way to the league title. Their play maker Danushka Ranjan is any coaching staff's dream to have him in their team. He was unstoppable. He will be the player to watch this season. On attack he split many defenses all over; once again played a grand game beating their traditional rivals CR & FC. The Longdon place club once again piled up with some basic errors which cost them the game. On talent Imthisam Marrikar's team is nothing short of young blood and talent but they need to avoid these in the future games for them have any chance of the league. Havies on the other hand overcame their errors which was made in the Cops game and made sure not to repeat once more.

Rimzi Jamaldeen and Dhanushka Ranjanstodd out for the Park Club while Prince Chamara and LochanaHettiarachchi played well for the Longdon Place club.

Army SC=18 Points | Navy SC=17 Points

Army pulled off a dramatic last minute try by skipper Asoka Jayalal plus a win over the Sailors by the narrowest margin of one point at Welisara. For Army SC GayanSalinda and ever green skipper Jayalal played their hearts out. With this win Army SC will be one of the front runners for the League.