By Shamseer Jaleel

Japan won the first leg of the Asia Rugby Seven series, beating hosts China in the final 28-12 in China last weekend.

South Korea finished third, beating Sri Lanka 24-7 while the UAE won the Bowl beating Singapore 15-7. The only shock of the tournament came when Hong Kong suffered a 21-17 defeat to hosts China and dropped four places to finish fifth in the tournament. Defending champions Hong Kong missed out on a finals berth for the first time in four years. Hong Kong romped to the Plate, which they won easily by beating Malaysia 29-0 in the semi-final and then trouncing Kazakhstan 27-0 in the final. Sri Lanka too performed well, beating Malaysia in the quarter finals 31-10 and going down to hosts China in a tough battle 22-12.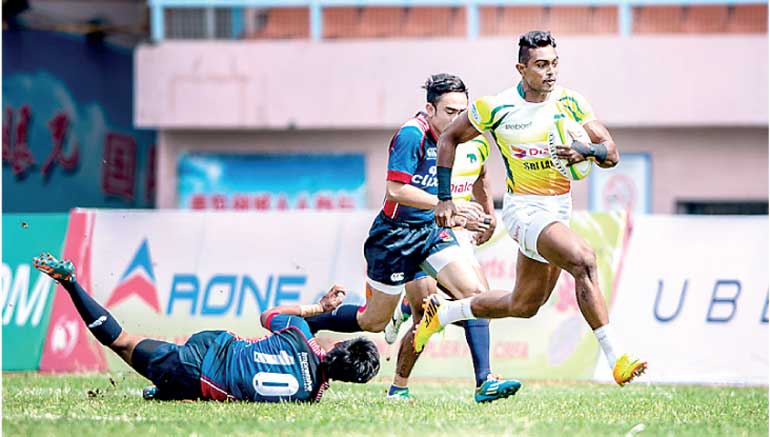 The third-place playoff saw South Korea overrunning the Lankans 24-7 in a one-sided affair. Sri Lanka's player of the tournament was the former Peterite and Havies player Dhanushka Ranjan, who had an outstanding tournament on both days with electrifying speed.

The Hong Kong Women's Sevens team took a huge step towards its objective of clinching at least a second-place finish in Asia after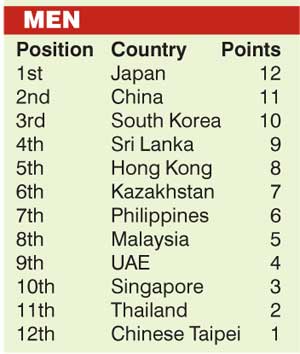 winning its first-ever Cup final in an Asia Rugby Sevens Series tournament. Hong Kong beat hosts China 24-15 in the final of the China Sevens, the opening event of the 2015 Series.

The win for Hong Kong in the women's category was a perfect build-up for the Olympic qualifiers later in November when Asian qualification will send one men's and one women's team to the 2016 Games in Rio. The Sri Lanka Women produced a pathetic display during the tournament, losing all their games on tour, ending up even behind Uzbekistan.