Janul de Silva of Royal College became the Under-15 champion at the ASTAR Scrabble Challenge International (ASCI) 2017, held in Malaysia on 8 and 9 April.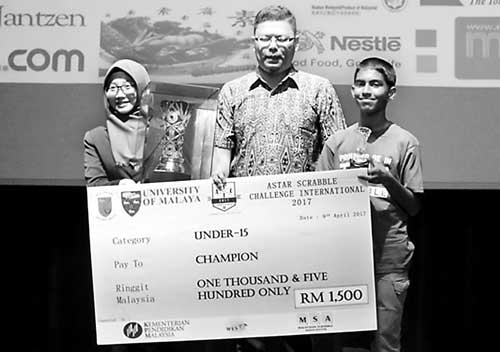 Janul, who is the current champion of both Sri Lanka's School Scrabble of the Year and the All Island Scrabble Championship – Under-18, won all 13 of his games and emerged champion two points clear of his nearest rival in the tournament in which 189 players participated.

Qays Sangani of Royal College emerged fourth, winning 10 of his 13 games. Qays, who was in contention for a place in the top three, narrowly missed out after losing by a single point.

In the Under-18 tournament, Sri Lanka's highest rated Scrabbler Aabid Ismail, also of Royal College, who was the Under-15 Champion at ASCI 2016, emerged fifth. Aabid, who was the clear favourite to win the tournament, suffered some narrow losses which resulted in him having to be content with fifth place.

Thirandi de Silva of Ladies' College, who was in the running for a place in the top three with two rounds to go, was unfortunate to lose both her final two games. Thirandi incidentally lost her final game to Aabid, which resulted in her being placed 13th. 164 players participated in the Under-18 tournament.

ASCI 2017 also included an Open Tournament and an Under-12 tournament. The world's highest-rated Scrabbler Nigel Richards won the Open Tournament.