ESPNCricinfo: An international team is under investigation for corruption, the ICC's Anti-Corruption Unit Chairman has revealed at the outset of the World Twenty20 in India. Sir Ronnie Flanagan said the ACU had thwarted attempts to "manipulate" events in forthcoming matches to facilitate betting, and that action had been initiated against "one or two individuals".

He refused to elaborate on the "ongoing" matter, but cited it as an example of the ACU acting on intelligence received and playing a proactive role in preventing acts of corruption.

"It will be very difficult for me to talk about specific details about an ongoing case, but quite recently we have a reason to believe that members of a particular team have intentions to manipulate events in forthcoming matches," Flanagan said at a media interaction in Mumbai ahead of the World T20. "This was an international team but I am not going to go into any details because it is still under our investigation.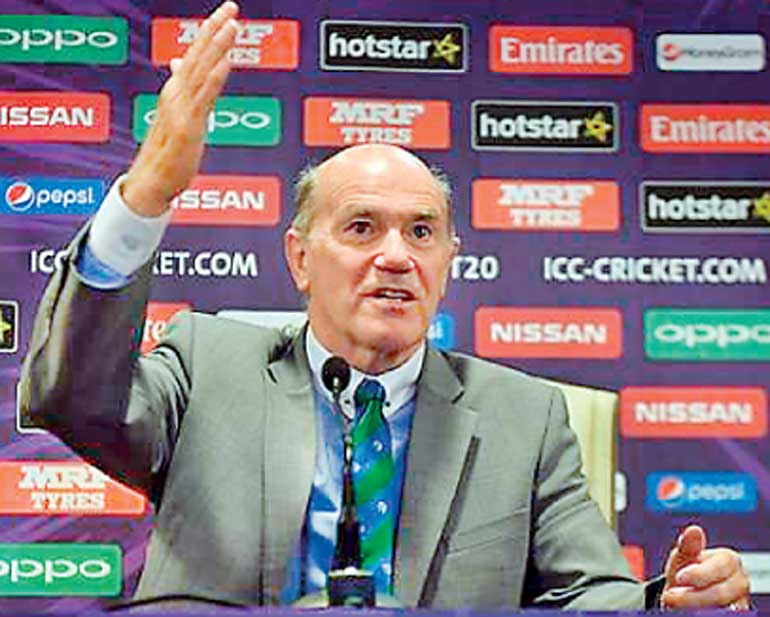 The chairman of ICC's anti-corruption unit also revealed a possible case of corruption that's currently under investigation – AFP


"Certain individuals, we believed, had intention to manipulate events to facilitate betting on those events. Just like police have to make these operational decisions - in terms of how long or how far you allow something to develop or when do you intervene - we decided in this particular case we would intervene immediately. We would focus on individuals who we suspected, but we would remind the entire squad of all their responsibilities. I am certain that our action in that particular case did indeed avert the intention of just one or two individuals, and we have taken action in relation to those individuals and we will be taking further action."

The ACU was heavily criticised during the Chris Cairns perjury trial, where a leaked testimony from former New Zealand Captain Brendon McCullum eventually played a role in the failed prosecution against Cairns.

On how the ACU could earn the faith of the players, Flanagan assured that the unit took every report seriously and kept the complainants in the loop. He also said a dedicated hotline was set up for the World T20 for players and officials to reach out. "That's my responsibility, to make sure that the players do have confidence that when they report something [that] something will be done about it," Flanagan said. "Everyone has a right to fairness, so as a general policy we don't act on one uncorroborated report. We look for supporting evidence, we begin an investigation.

"It's important we keep going back to players to keep them updated on what is happening so that they don't come by this view 'I reported this and it seems to have gone into a black hole.' In these days running up to the T20 World Cup, my anti-corruption managers have been with players and will speak to every squad – men and women – and those are the opportunities when players ask my anti-corruption managers questions. In the last 12 months we have received 450 [intelligence] reports. My assurance is something will be done on all these reports. They are never ignored."

Flanagan also defended the ACU saying it didn't have the "powers of the police force" and that its efficiency shouldn't be judged by the number of people prosecuted. He described BCCI's proposed tie-up with the Maharashtra state police as a positive step and encouraged other member units to enter into similar intelligence-sharing arrangements with law enforcement agencies in their respective countries. "We are not a police force, but what we do have is very good relationships with the police bodies in all countries playing cricket," he said. "In the order of priority our activity is to try and prevent corruption, to disrupt the activities of those who seek to engage in corruption and if we have to, investigate corruption and prosecute instances of corruption.

"This [the BCCI's tie-up] is a positive development and something we encourage our domestic units to do. If you go back to last year's World Cup, we [the ICC] had memorandum of understanding drawn up with both the Australian federal police and the New Zealand federal police. Working in partnership, we can make cricket a cleaner game, we can keep these corruptors at bay and prevent their criminal intent. Within the next few weeks I will be travelling to the UK to sign another Memorandum of Understanding with the National Crime Agency. They are long-term arrangements."