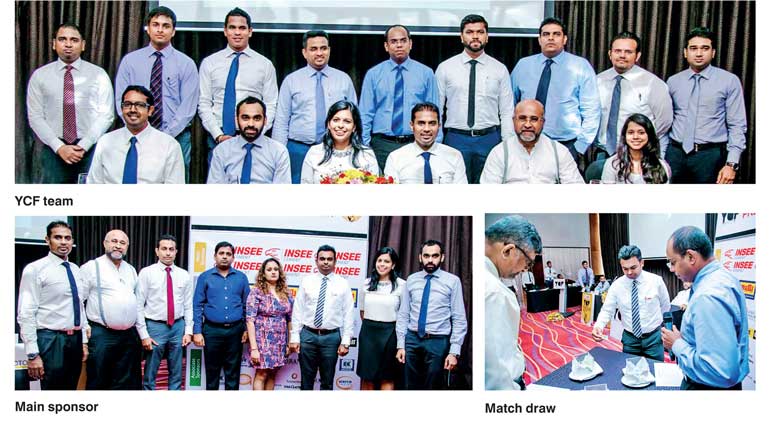 The INSEE YCF Premiership 2017, conducted by the Young Constructors Forum (YCF), will be held on 15 July at the Nondescripts Sports Club Cricket Ground.

The YCF comprises a group of young professionals representing the leading construction firms in Sri Lanka, which has come together in an effort to voice and discuss the concerns of the next generation of engineers and constructors.

The main sponsor of this year's tournament is INSEE (Siam Cement), while the Corporate Sponsors are LANWA – Ceylon Steel Corporation and the LOLC Group – LOLC Finance and Browns. This year's Strategic Sponsors are United Tractor and Equipment Ltd. while the Associate Sponsors are Nawaloka Construction Ltd., Saw Engineering Ltd, Asia Pacific Totalamber Ltd., Kelani Cables Plc, Sierra Cables Plc and Orange Electric.

The YCF Cricket Sixes was first launched in 2012 on a modest scale with a few member companies participating in a six-a-side softball tournament. Since then this annual event has grown to become a key event in the construction calendar.

This year's tournament, the INSEE YCF Premiership 2017, will have a total of 36 men's and women's teams from 23 participating companies.

Trophies will be handed to the Best Batsman, Best Bowler, Best Fielder and Most Valuable Player in their respective leagues, with trophies being awarded to the runners-up in the male and female categories, as well as the Male and Female Premiers and the YCF Fair Player Award.

The YCF was established in 2011 with the objective of bringing together young professionals in the construction industry to share best practices, bring forward new ideas and to build fellowship which holds the key to the future advancement of the construction industry. The forum consists of 30 members representing 23 of the largest civil/mechanical contractors in Sri Lanka.

The office bearers of the YCF are President Eng. Madura De Silva, Secretary Eng. Shanika Cabraal and Treasurer Charitha Arawwala.

The teams participating in this year's tournament are:

1.Access Engineering Plc

2.Chanaka Metal

3.Walkers CML Group

4.Consulting Engineers & Contractors

5.Edward & Christie

6.ELS Construction Ltd.

7.Frigi Engineering Services Ltd.

8.Hovael Construction Ltd.

9.ICC Ltd.

10.KD Ebert & Sons Holdings Ltd.

11.KDA Weerasinghe& Co. Ltd.

12.Kent Engineers Ltd.

13.Link Engineering

14.LH Piyasena & Co

15.Maga Engineering Ltd.

16.Nawaloka Construction Ltd.

17.Nem Construction Ltd.

18.Nuwani Construction Ltd.

19.RH Holdings Ltd.

20.Sanken Construction Ltd.

21.Sierra Construction Ltd.

22.Tissa Builders & Contractors

23.Tudawe Brothers Ltd.

24.VV Karunaratne & Co.