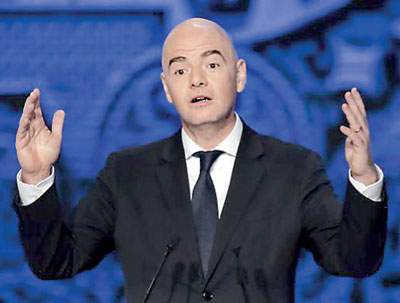 Reuters: FIFA President Gianni Infantino has changed his mind again over his plans for the future of the World Cup and has now recommended a 48-team tournament with 16 groups of three, a source in soccer's governing body said on Wednesday.

Infantino's latest suggestion was among four proposals which have been sent to FIFA Council members who will decide in January on the format and number of teams for the 2026 World Cup, the source said.

In October, Infantino also suggested a 48-team tournament but with a one-off preliminary round involving 32 teams, with the 16 winners going into a 32-team group stage and joining 16 teams who would receive a bye.

This remained an option but was no longer the favoured one, the source said.

When he was elected in February, Infantino had promised to expand the tournament from the current 32 teams to 40.

This was also among the proposals sent to the FIFA Council members, with either eight groups of five or 10 groups of four.

The fourth suggestion is to maintain the 32-team format.

Infantino's most recent proposal would ensure that all teams play at least two matches before going home.

The previous suggestion of holding a preliminary round had been criticised because it meant that 16 teams would spend months preparing and travel to the host nation, only to go home after one game.

Infantino has argued that expanding the tournament would increase its appeal and promote the growth of the sport worldwide.

Critics, including Germany coach Joachim Loew, have said it would dilute the quality of the event and require the use of complex mathematical formulae.