AFP: India's Jyoti Randhawa rolled back the years with a blemish-free seven under round of 65 to take the outright lead at the Manila Masters golf tournament on Friday.

The 2002 Asian Tour order of merit winner got off to a great start with three early birdies, breaking clear of four players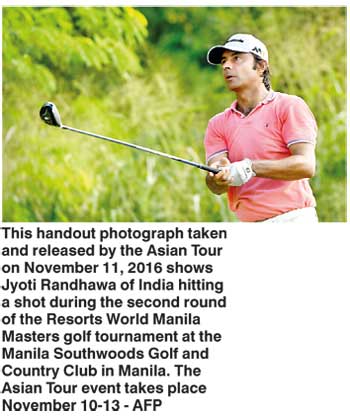 who had a share of the first-round lead.

"I put my head down and made three great swings, three great putts and played those three holes fabulously well. After that, I knew what I needed to do and just stuck to that game plan," the 44-year-old said.

Thai duo Sutijet Kooratanapisan and Tirawat Kaewsiribandit shared second place after matching rounds of six under on day two.

Meanwhile, all eyes were on compatriot Sattaya Supupramai, who had seven straight birdies to match the course record of 63 and take an equal share of fifth place.

He could done even better if it were not for bad weather late in his round at the Manila Southwoods Golf and Country Club that he blamed for a bogey on the 17th.

"I knew it was possible to break the course record. But it started to rain when I was approaching my finishing holes," he said.