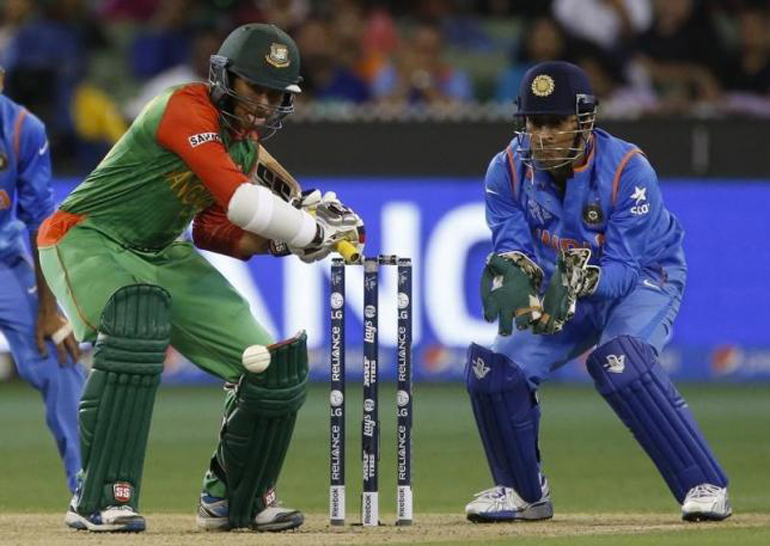 Bangladesh batsman Soumya Sarkar prepares to hit a shot as India's wicketkeeper MS Dhoni watches on during their Cricket World Cup quarter final match in Melbourne - Reuters
REUTERS: India captain Mahendra Singh Dhoni and Bangladesh paceman Mustafizur Rahman have been fined for a collision during Thursday's first one-day international at Mirpur, the International Cricket Council (ICC) said.

While Dhoni has been fined 75 percent of his match fee, Rahman, who made his ODI debut with a man-of-the-match performance, was docked half of his match earnings.

The incident occurred in the 25th over of India's chase when Dhoni appeared to shove the bowler away while taking a single with the left-arm paceman in his path.

The 19-year-old Rahman left the field after the incident, returning later to complete a five-wicket haul in the match, which hosts Bangladesh won by 79 runs to take a 1-0 lead in the three-match series.

Both players pleaded not guilty to the charge, ICC match referee Andy Pycroft said in a statement on Friday.

"In the hearing, Dhoni defended the charge on the basis that the bowler was on the wrong line and realising that he couldn't avoid the collision, he used his hand and arm to push him away as he went through to 'minimise the impact'," Pycroft said.

"However, my assessment was that Dhoni deliberately pushed and shouldered Mustafizur, which was inappropriate.

"Mustafizur was fined 50 percent of his match fee after he admitted that his actions in not getting out of the batsman's way were inappropriate and he should have done more to avoid the contact."

The second match of the series will be played on Sunday.