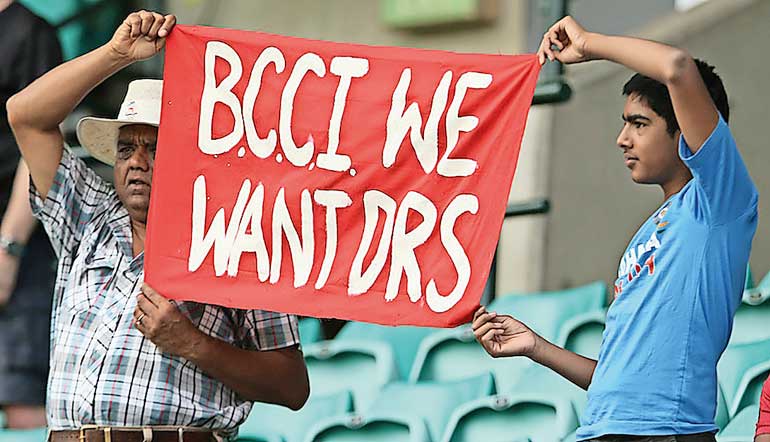 The message has finally been received – Getty Images
ESPNcricinfo: India have agreed to use DRS for the upcoming Test series against England on a "trial basis" to "evaluate the improvements made" in the system. India had played in the first series with umpire reviews, against Sri Lanka in 2008, but this will be their first bilateral contest since then with all the components of the DRS – includingg ball-tracking technology – in place.

"We are happy to note that Hawkeye has institutionalised all the recommendations made by BCCI, and we confirm that this improved version of DRS will be used on a trial basis during the forthcoming series against England," the BCCI President Anurag Thakur said. "Based on the performance of the system and the feedback that we will receive, further continuation in forthcoming series will be decided."

One of India's biggest concerns with the DRS, the predicted path of the ball after it hits the pad in the case of lbw decisions, will be addressed by the use of ultra-motion cameras. The manual intervention in determining the point of impact will be minimised by the introduction of Ultra Edge, which according to a BCCI release had been approved by Massachusetts Institute of Technology (MIT). It will also eliminate the possibility of another touch after the first impact affecting the predicted path or point of impact.

"Earlier, there was a possibility that the operator would have missed a delivery and hence an lbw appeal could have been missed," the BCCI release said. "Now, Hawkeye has developed the technology to record and save all images so that in case an operator fails to arm the tracking system, the images can be rewound and replayed."

Since their first experience with the system in its nascent stages, India were the biggest opponents of the DRS. The only times India used it since that 2008 series was in ICC events and in one Test series against England in 2011. In that series, the DRS was not used for lbw decisions.

The BCCI's sustained refusal to use the DRS meant that other countries would not use the system only when playing India. The board rarely articulated its opposition to the system in detail; India's former Test captain MS Dhoni used to say they would use DRS only when it was 100% accurate.

The current India coach Anil Kumble, who is also the head of the ICC cricket committee, had made a visit to MIT before he took over the India job to be apprised of the latest developments in the DRS technology. During the recent series against New Zealand, India's current Test captain Virat Kohli had said India "definitely wanted to think about DRS", which was the first significant departure from their previous stance.

On October 19, the ICC general manager Geoff Allardice made a presentation in Delhi that was attended by Kumble. Two days later, India confirmed their acceptance of the system albeit on a trial basis.