India's women's cricket team held off a spirited chase from subcontinental rivals Sri Lanka to record a 16-run victory in their ICC Women's World Cup fixture played in Derby yesterday to notch up their fourth tournament win on the trot.

Buoyed by half-centuries from Deepti Sharma, who struck 78 runs off 100 balls, and Mithali Raj, who struck a similarly circumspect 53 runs off 78 balls, the Indian innings was helped to a formidable 232 for 8 in its 50 allotted overs. This left the Sri Lankans confronting a daunting chase, one which stalled frequently through the loss of regular wickets. Although they did manage to resurrect their momentum through resilient knocks from Dilani Manodara (61 runs off 75 balls) and Shashikala Siriwardene (37 runs off 63 balls), the Indians were never under real threat as Sri Lanka's required run rate steadily swelled to distressing proportions with each passing over.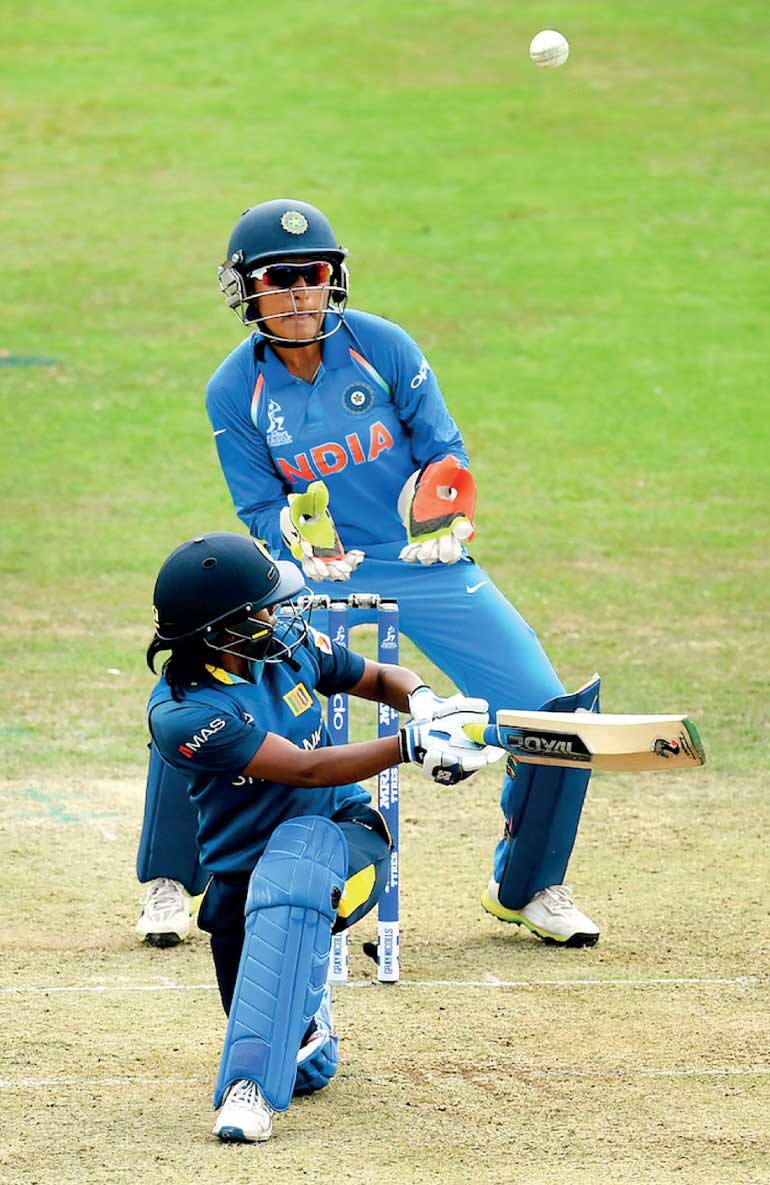 Sri Lanka's Dilani Manodara battles valiantly – Getty
With Sri Lanka needing 23 runs off the final over, Indian spinner Deepti Sharma allowed only six to seal a well-deserved triumph for her team which placed them second on the points table behind Australia. Meanwhile, Sri Lanka languish in sixth position, having failed to earn a victory from any of their four encounters. Sri Lanka will next play the West Indies on 9 July in Derby.
---
Scoreboard
India
PG Raut c Jayangani b SS Weerakkody 16
S Mandhana c Siriwardene b Gunaratne 08
DB Sharma c Ranaweera b Kanchana 78
M Raj lbw b Ranaweera 53
J Goswami c Jayangani b Ranaweera 09
H Kaur c Ranasinghe b SS Weerakkody 20
V Krishnamurthy c Gunaratne b SS Weerakkody 29
S Verma not out 11
M Joshi run out (Ranasinghe/Gunaratne) 02
E Bisht not out 00
Extras (b 1, w 4, nb 1) 6 Total (8 wickets; 50 overs) 232 (4.64 runs per over)
Did not bat Poonam Yadav
Fall of wickets 1-21 (Mandhana, 5.1 ov), 2-38 (Raut,
10.5 ov), 3-156 (Sharma, 36.5 ov), 4-169 (Goswami,
39.1 ov), 5-169 (Raj, 39.2 ov), 6-219 (Kaur, 48.2 ov),
7-219 (Krishnamurthy, 48.3 ov), 8-230 (Joshi, 49.5 ov)
Bowling:SS Weerakkody 9-2-28-3, HHC Gunaratne
10-1-52-1,HASD Siriwardene 10-1-24-0,I Ranaweera
10-0-55-2,OU Ranasinghe3-0-22-0,KADA Kanchana
8-0-50-1
Sri Lanka
MDN Hansika st.Verma b Poonam Yadav 29
GWHM Perera c Mandhana b Goswami 10
AC Jayangani b Poonam Yadav 25
HASD Siriwardene c Krishnamurthy b Goswami 37
MADD Surangika st .Verma b Sharma 61
KADA Kanchana run out (Joshi/Kaur) 07
SS Weerakkody c Krishnamurthy b Bisht 12
PM Weerakkody not out 21
OU Ranasinghe not out 09
Extras (lb 4, w 1) 05 Total (7 wickets; 50 overs) 216 (4.32 runs per over)
Did not bat HHC Gunaratne, I Ranaweera*
Fall of wickets 1-17 (Perera, 4.3 ov), 2-57 (Jayangani, 17.4 ov), 3-70 (Hansika, 23.3 ov), 4-130 (Siriwardene, 38.6 ov), 5-143 (Kanchana, 40.4 ov), 6-171 (SS Weerakkody, 44.1 ov), 7-191 (Surangika, 47.1 ov)
Bowling
J Goswami8-2-26-2 ,M Joshi 5-0-36-0,DB Sharma10-3-46-1,E Bisht10-0-48-1,H Kaur7-0-33-0,Poonam Yadav10-1-23-2