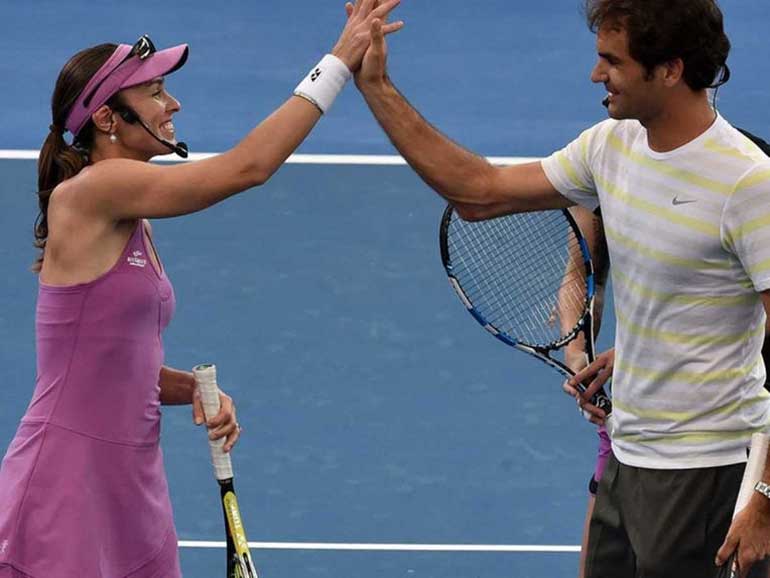 Reuters: Switzerland's two greatest tennis players will join forces at next year's Rio Olympics when Roger Federer and Martina Hingis play together in the mixed doubles.

Seventeen-times grand slam champion Federer, a year younger than Hingis who came out of retirement for a second time in 2013 and won the women's doubles at this year's Wimbledon and U.S. Open, claimed Olympic gold for his country in 2008 when he partnered Stanislas Wawrinka in Beijing.

He last played alongside his fellow Swiss at the Hopman Cup in 2001.

Hingis, winner of five grand slam singles titles but never an Olympic medal, and India's Sania Mirza are currently the top-ranked women's doubles pairing.

Federer, who is in New Delhi for the third leg of the International Premier Tennis League (IPTL), said he cannot wait to play again with Hingis.

"I am very excited about it. She (Martina Hingis) was a hero of mine. I used to be 15-years-old practicing at the national tennis centre while she was winning Wimbledon. So, I could not believe in what she was doing and its beautiful to see that she is still playing and yeah, we are a little bit rusty after 15-years of playing together but hopefully we have some time so I am looking forward to it of course, playing at the Olympics with her," he said at a news conference on Saturday (December 12).

World number three Federer will try to juggle his schedule next year to give himself a shot at winning the Olympic singles gold, the one notable title missing in his illustrious career.

He reached the final in London in 2012 but was beaten by Briton Andy Murray.

Meanwhile, talking about the match between the two legends of modern tennis, Spanish tennis star Rafael Nadal said that he had always enjoyed playing against Federer.

"I think I played one match before here maybe that helps but you know with this format, with these rules, everything happens so fast and every point is so important. So you know, the match was so close, I think we played a good match and you know the match decided in just few points. So happy to play here, with Roger, always is a pleasure in any place around the world," Nadal told reporters at the news conference.

Nadal beat Federer 6-5 to give the Indian Aces a 30-19 win over the UAE Royals on the final day of the India leg of IPTL.

The Aces, who maintain their lead at the top of the championship standings, won all five of their matches.

Nadal broke Federer in the first game and held serve for a 2-0 lead. The Swiss broke back to level at 2-2 but Nadal broke again in the next game.

Federer fought back and the set went to a deciding shootout. The Spaniard moved to a 5-1 lead but Federer pulled back to trail 5-4.

Nadal sealed the victory when Federer hit his forehand long.

Despite the defeat, Federer said that he was quite happy with his performance in the tennis league.

"I had a slower start but you know you could see that Rafa (Rafael Nadal) was ready and maybe has played here as well a match. It's not a big advantage or maybe not at all. But it's been short, I have just arrived, the season is just beginning and I am practicing and I am not playing a million points yet, so you know clearly, you are going to be a little bit rusty. But at the same time, I think I did pretty good. So I am quite happy with my form considering it's against Rafa my first match of this sort of new season," said the Swiss ace.

The tennis legends are to leave for Dubai and then Singapore for the last and final leg of IPTL.

Also present at the news conference was Indian tennis star Mahesh Bhupathi.