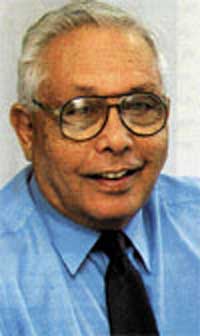 ESPNCricinfo: Former Sri Lanka cricketer and SLC president Ian Pieris died on Friday at the age of 82 after a long illness. His funeral took place in Colombo on Saturday.

Pieris served as the president of the SLC on two occasions. His first term, in 1989, lasted just four months and the second, in 1990, for one year.

In his first term, Pieris did not see eye to eye with the board's executive committee on the need to follow the instructions of the sports minister Nanda Mathew, and subsequently resigned on principle. During his second term, Pieris, along with the secretary S. Skandakumar, did a lot of ground work to get international tours started to Sri Lanka.

Pieris also had a distinguished cricket career playing as a top-order batsman for S. Thomas' College, Mt. Lavinia, and as a right-arm opening bowler for Singhalese Sports Clumb, Cambridge University and All-Ceylon (as the national team was then known). While at school, Pieris made his international debut when he was picked to play against Lindsay Hassett's Australia team in 1953. Pieris later joined SSC, but one of his ambitions was to play on the hallowed turf at Lord's.

During his three-year stint at Cambridge University from 1956, Pieris teamed up with the likes of Bob Barber and Roger Prideaux, who later went on to play for England, and Ian McLachlan, who played for Australia.

Pieris' best contribution for his country was as a batsman at No. 11, when he scored 46 not out in an entertaining last-wicket partnership of 110 in 53 minutes with Neil Chanmugam in an unofficial Test against West Indies at the P. Sara Oval in March 1967. Recalling that innings, Pieris had said: "I was angry with the captain, the selectors and with everybody because I was sent to bat at no. 11. I felt that there were many who were sent before me. I was so angry I thought to myself that I am going to show these chaps that I can bat. Fortunately for me, Neil also stuck there. That's how I scored 46 not out, fueled in cold fury."

Apart from cricket, Pieris also played golf and tennis, but was forced to stay away from active sports in 2003 because of a back problem which continued to plague him till his death.