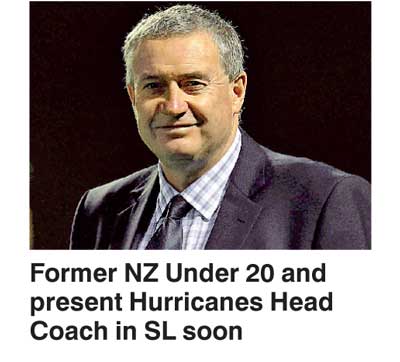 By Shamseer Jaleel

Former Trinity winger, CR&FC and Kandy player and present High Performance Director of Sri Lankan Rugby Inthi Marikar with an invitation from SLRFU will bring the former New Zealand Under-20 and Hurricanes Head Coach Chris Boys to the country next week (28 October). A Q&A session will take place at the Kingsbury Hotel from 3 p.m. to 6 p.m. for the local coaching staff.

The former Sri Lanka Sevens Head Coach Inthi Marikar said: "The presentation by Boyd will be on how they won the Super Rugby Championship this year, which had eluded them since the inception of Super Rugby. There are many common areas between New Zealand and Sri Lanka. We must make the maximum out of our relationship which is very positive at present. Our love for rugby is growing continually and we are delighted to be able to support initiatives like this that will also grow our sporting connections in the field of rugby from school to elite levels.

"Rugby is an important way for New Zealanders to build connections with Sri Lanka and the people of Asia. That's a new area we are working on. Our focus includes organising these kinds of rugby workshops with New Zealand as it will help to grow Sri Lankan rugby immensely and to go forward and to be a major Sevens force in Asia in the near future."

Boys' first assignment was as the Head Coach of Tawa Rugby Club and the Wellington Lions later on. He moved on to coach the Sharks at Super Rugby from 2006 to 2008. He has worked at the International Rugby Academy of NZ since then. He had a short stint with the Tonga team at the 2011 RWC Rugby World Cup.