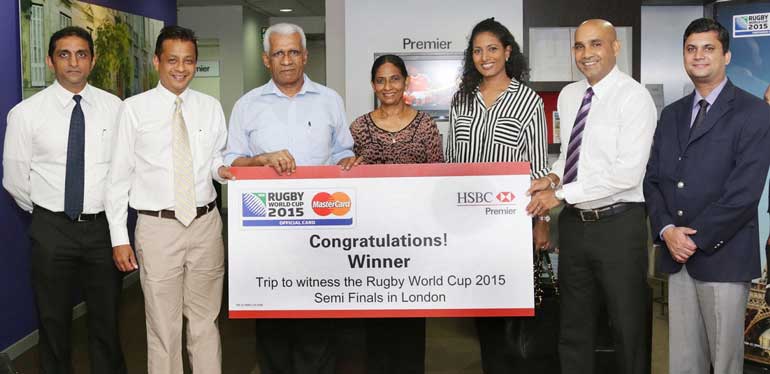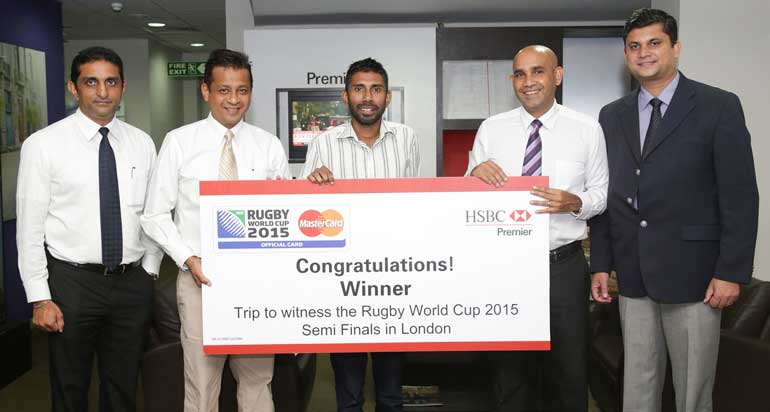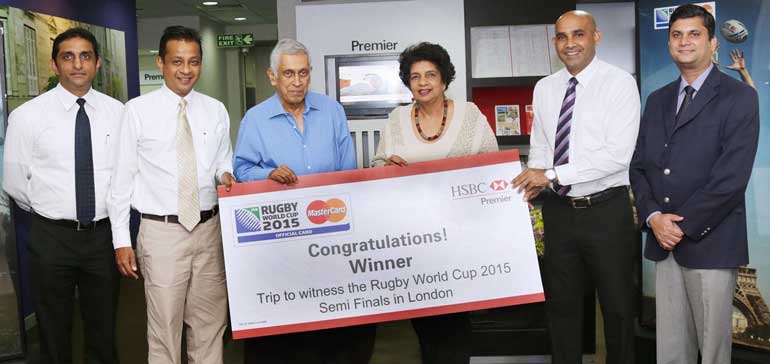 Winners and their companions with Tharanga Gunasekera, Head of Marketing and Communications, Nilantha Bastian, Head of Retail Banking and Wealth Management, Aasiri Iddamalgoda, Head of Cards, Premier, Products and Services and R B Santosh Kumar, Country Manager, MasterCard Sri Lanka and Maldives
As the ongoing Rugby World Cup continues to enthral fans worldwide, three lucky HSBC Premier customers and their companions have won the chance to witness the greatest rugby spectacle in the world - the 2015 Rugby World Cup semi-finals to be held on 25 October in Twickenham, UK.

With an all-expenses paid hospitality package entailing business class travel, a welcome reception and dinner, luxury hotel accommodation, in-venue hospitality and many others, the lucky winners namely, Dr. Pujitha Thenabadu, Devinda de Silva and Chandrasiri Soysa and their companions are no doubt in for a memorable experience.

«I was delighted to hear that we had won a great package to witness the Rugby World Cup semi-finals in London. This win further confirms our relationship with HSBC and MasterCard and has encouraged us to use HSBC Premier MasterCard more often,» Dr. Thenabadu said.

Soysa, added: «We were surprised by this win, to have won a package of this value within a month of us joining.»

"This is an opportunity of a lifetime. I look forward to watching a good game of rugby as it happens in London." commented De Silva.

The HSBC Premier MasterCard promotion was held from 15 July to 15 September, giving HSBC Premier Customers the chance to qualify for a MasterCard Priceless Experience at the Rugby World Cup.