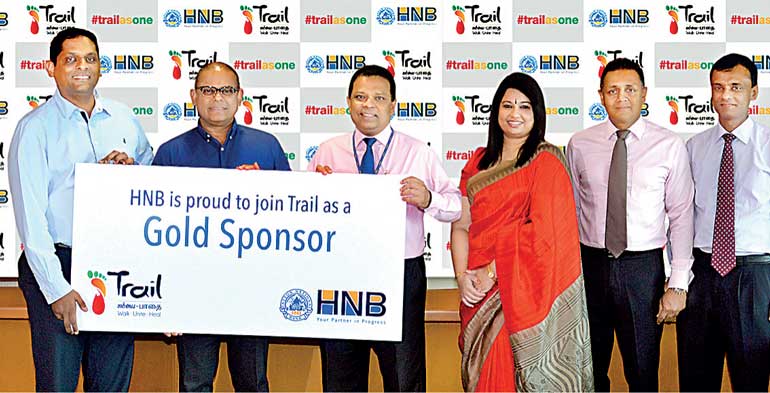 From left: Trail Co-founder Nathan Sivagananathan, Trail Co-founder Sarinda Unamboowe, HNB Managing Director/CEO Jonathan Alles, HNB Chief Human Resource Officer/DGM-HR Chiranthi Cooray, HNB Deputy General Manager – Retail and SME Banking Thimal Perera and HNB Head of Marketing Chammika Weerasinghe
Leading private banking giant, HNB, announced that it would once again join hands with the Colours of Courage Trust to be a gold sponsor for Trail 2016. Through this partnership, HNB will walk side by side with the Trust in a trail-blazing effort to raise funds to expand and add facilities to the oncology unit at the Galle district's Karapitiya Teaching Hospital. The 670 km walk from Point Pedro in the North to Dondra Head in the South of Sri Lanka will commence on 6 October this year, with the aim of raising $ 5 million towards a state-of-the-art cancer unit for the Southern district's only national level teaching hospital.

HNB was the gold sponsor for Trail 2011 as well, which succeeded in garnering a total of $ 5 million and set up the Telipillai Trail Hospital in Jaffna, which is the second largest and most equipped, specialised cancer facility in the North.

"We are delighted to come on board and partner with Trail for this very worthy cause," said HNB Chief Executive Officer and Managing Director Jonathan Alles. "The founding members and team of the Colours of Courage Trust, trustees and organisers of Trail 2016 have walked the extra distance to bring hope and ease to over 4,500 patients so far with the opening of the Tellippilai Trail Hospital in Jaffna in 2014 and we at HNB are happy to do our bit in adding muscle to the effort," he added.

Trail co-founder Nathan Sivagananathan said of HNB's benevolent involvement, "We are honoured that HNB has continued its commitment to cancer and Trail as they have done in the past."

Chief Human Resource officer and trustee of the HNB Sustainability Foundation Chiranthi Cooray commenting on HNB's involvement with 'Trail' said, "At the core of HNB's social responsibility is employee volunteerism. We are very pleased to be a part of Trail and actively participate in the programme through our branch networks across the island."

"Team HNB is looking forwards to walking with Trail, from Point Pedro, throughout its journey, right up to the end at Dondra," she enthused.

HNB will partner with Trail 2016 by enabling acceptance of online credit and debit card payments towards the cause. Contributions can be made through any HNB branch by crediting the 'Colours of Courage Trust (Guarantee) Ltd.' Account No. 003010491671 or through any of HNB's 400 plus ATMs, island-wide.

All along the route, interactive features have been arranged by the bank for maximum participation from customers and spectators. On parade will be a decorated float bearing HNB's flagship children's savings icon, the jumbo 'Singithi' till, to which contributions can be deposited en-route. Trail 2016 route will be adorned to showcase their involvement in the initiative. In a show of voluntary support, at each location and at every stage of the walk, 50 HNB employees including the corporate and senior management will join in and walk for the cause.

During the march towards the South, the parade will pass through 15 of HNB branches namely, Point Pedro, Jaffna, Kilinochchi, Vavuniya, Anuradhapura, Thabuttegama, Kurunegala, Negombo, Wattala, Wellawatta, Mt. Lavinia, Panadura, Galle, Matara and Dondra where special activity will be arranged for fund raising.

As the Gold sponsor, HNB will support Trail 2016 to spread the message through its customer touch points such as some of the bank sponsored billboards, radio messages, ATM screens and social media.

This year's walk, a sequel to the 2011 Trail walk, from Jaffna to Matara, will take 28 days covering 28 towns along the planned route. A host of brand ambassadors from film stars and musicians to cricketers will be a part of the star studded brigade. For more information on how to register and donate to the cause, please visit trailsl.com.