New-look team stuns at Rotherham Circuit Meet 2015, Katukurunda
Team to officially launch soon, inviting partners for 2016 season
Hellibees Racing debuted its new look racing bikes recently, at the Rotherham Circuit Meet 2015 at Katukurunda. The team showed off its fleet of newly re-branded racing motorbikes in keeping with its upcoming launch, where it will officially begin accepting partners for the 2016 racing season.

Commenting, Hellibees Racing Team Founder Murad Ismail said, "Not only do we now have several talented riders and drivers, but also a thrilling new look, to wow audiences and, in turn, raise the profile of our partners. Excitingly, Hellibees Racing fans can also look forward to two of our best drivers competing in Malaysia soon. And, for next year, we plan to add even more categories, like Formula 4, as well as podium finishes, and do it all with honour."

Hellibees Racing riders also won big at the Rotherham Circuit Meet 2015 with Shoel Daniel deservedly walking away with the coveted 2015's "UD Jinadasa Challenge Trophy for Best Rider", as well as first place finishes in the 250cc, 600cc and Open up-to-1,000cc categories (competing on his 600cc motorbike). In fact, Shoel Daniel won every race he took part in on the day.

At the same time, Reza Odayar, Lathika Shamal and Ned Daniel also contributed in a big way in terms of overall team winnings, with Reza Odayar coming in third in two key races, the 1,000cc and the Open Uproar 1,000cc, while Lathika Shamal earned second in the 250cc and Ned Daniel won third in the Supermoto Open race.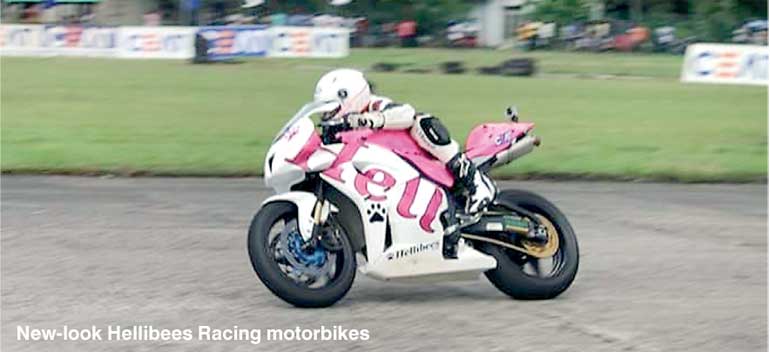 Additionally, Hellibees Racing rider Sangeeth Suriyage also stunned in late September in Sarawak, Malaysia, where he became the first and only Sri Lankan to finish in the top ten of the FIM Asia SuperMoto Championship 2015, the ultimate SuperMoto race in Asia and the only route to the World Championships from this region.

With "Your Life Made Awesome" as its call to action, Hellibees Racing was set up by motorbike racing enthusiast Murad Ismail, with its first appearance in May 2015 at Round 1 of the Katukurunda Circuit Meet 2015. The team saw early success with Shoel Daniel placing first in the 250cc and 600cc category, while Sangeeth Suriyage came in second in 250cc SuperMoto.

Hellibees Racing also did really well at the same track, at Round 2 of the Katukurunda Circuit Meet 2015, when Shoel Daniel topped both the 600cc and 250cc categories, and Sangeeth Suriyage won the 250cc SuperMoto. Round 2 also saw Hellibees Racing first-timer Sheron Mishal placing second in the 125cc category, while Reza Odayar came in second in two, over 800cc Open motorbike races, and Ned Daniel placed third in the SuperMoto 450cc category.