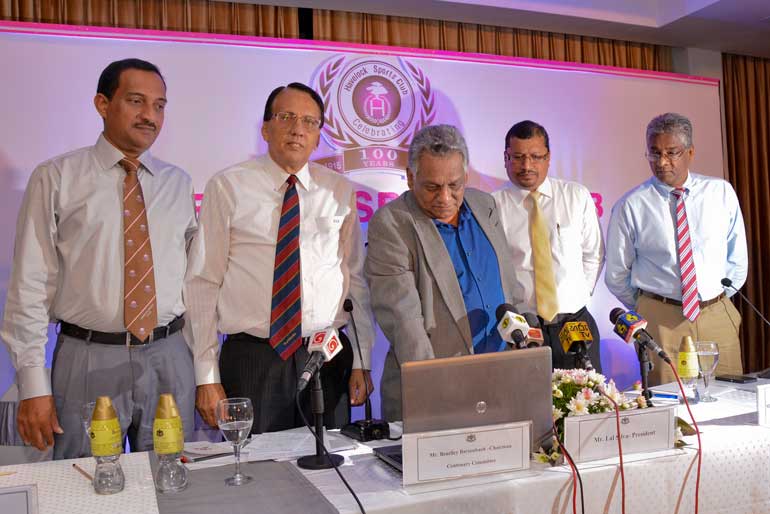 Havelock Sports Club President Lal Silva (third from left) launching the club's website. Others from left: Suranga Seneviratne, Centenary Celebrations Committee Chairman, Bentley Barsenbach, Secretary Romesh Abeywickrema and Wimal Senanayake look on

- Pic by Upul Abayasekara
The Havelocks Sports Club is one of the oldest sports clubs in the country and rests formidably on its seat at Colombo 5. This year marks 100 years since 27 schoolboys decided to organise themselves into a club.


The Havelocks Sports Club was initially conceptualised on enthusiasm and comradeship. President Lal Silva enthused that the bedrock of that enthusiasm and comradeship still forms the foundation of the club.


"When schoolboy Roy Joachim brought together his friends, all of whom were between 12 and 16 years of age, they had a vision to organise themselves into a sports club although there was no constitution, no office bearers, no material and even no ground. That unrelenting leadership and vision was the reason we see the greatness of the Havelock Sports Club today," he said.


This enthusiasm persisted and a constitution was eventually formulated. The President of the Burgher Recreation Club Dr. V.R. Schokman was invited to become the club's Founding President, while, for his leadership traits, Joachim was elected the first Honorary Secretary and Treasurer with early committee meetings held regularly at Dawson Road in Havelock Town.


Softball cricket, rugby football and association football were the most favoured sports at the club and by 1949, after World War II, Havelocks became the unofficial rugby champions.


"We were unbeaten Clifford Cup Champions in 1950 and 1951 with our line never crossed. Hockey too was fostered, gaining further credibility when Havelocks won the Andriesz Shield in 1935 and 1960, the Pioneer Cup in 1950 and 1955 and the Bacon Cup in 1947," Silva said.


Unveiling plans for the club's centenary celebrations, Centenary Celebrations Subcommittee Chairman Bentley Barsenbach stated that during Celebration Week from 28 August to 6 September, the club will be staging a series of events to mark this milestone, commencing with a Centenary Club Nite on 28 August, a sing-along on 30 August, a President's Night on 1 September and the CR-Havies rugby encounter on 2 September.


There will also be a Dinner Dance on 4 September at The Kingsbury with celebrations concluding with a Beer Morning on 6 September.

"Given our prowess at various sports, especially at rugby in the current era, we intend to strengthen that presence, while also ensuring that the club itself is recognised for the integral role it has played in uplifting the country's sporting superiority. This is the reason we are also launching our website today. It is an interactive tool which will enable us to position ourselves strongly in social media as well, while communicating news, events and even our legendary history to not only our members but the general public, clearly and concisely," explained Silva.


The sporting grounds house a state-of-the-art, floodlit stadium, designed to international specifications, and the clubhouse.

These were actually obtained only in 1921 subsequent to an appeal made to the Colombo Municipal Council. The grounds had been jointly leased by the Greenlands Sports Club and the Bambalapitiya YMCA and when it lost its lease it was given to the club, although the municipality did not sanction the construction of a permanent building for the clubhouse.

A clubhouse mounted on wheels was therefore constructed by Messrs. Walker Sons and Company Limited, a structure which stands even today.


In 1959, the new clubhouse was declared open after the municipality granted a 25-year lease on the ground.

Past President A. Sivaramakrishnan's message in the golden jubilee souvenir of 1965 states "that one of the most endearing traits that has remained fundamental to the founding tenets is the fact that politics, religion, race, ethnicity and any other division have no place in the club's idea of sportsmanship."


"We were one of the first clubs, way back in 1923 to ensure that Ceylonese sportsman gained their rightful place in our membership, in a general milieu where Europeans held dominance. Those fundamental values remain ingrained into our club's psyche even today because we believe that sports can be a uniting factor on any platform. It's not whether anyone wins or loses, it's how we play the game and that's what we intend to take to the next century and beyond."