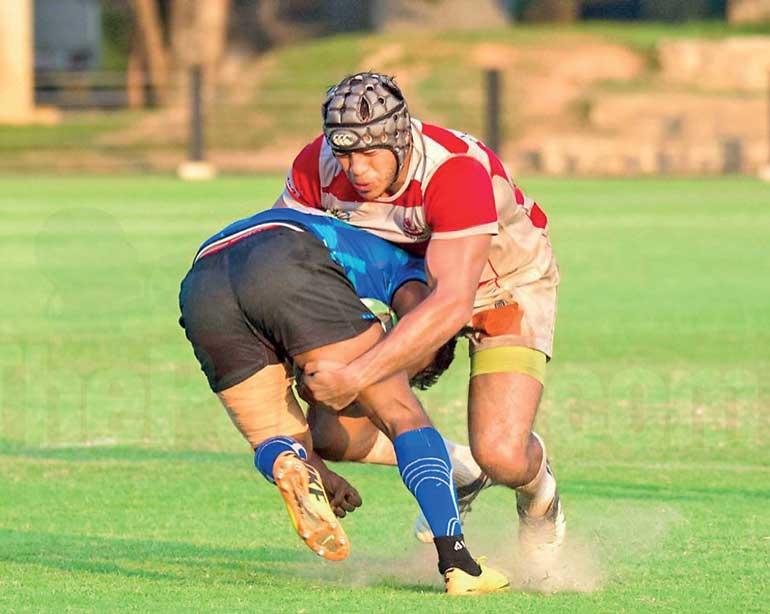 By Shamseer Jaleel

Both the Havelocks and Navy rugby outfits continued their winning streak in the league last weekend.

Navy had a close call against Kandy in Welisara, winning 37-32 while Havelocks got the better of an unlucky Army outfit 37-26.

Second half rally sees Air

Force through

CH though took a commanding 12-6 lead at halftime but the Air Force outfit came back strongly in the latter half to seal the game 26-12. CH scored two tries while the airmen scored three tries and three penalties.

Hard-fought

win for CR

After CR's magnificent performance against Sri Lanka Air Force everyone thought they would conjure yet another dominant performance but it was not to be as the cops regrouped and played cohesive rugby. They lost out due to not playing at the same pace for 80 minutes. The tense battle ended in a close 31-26 win for the Longdon Place club who fielded their Sri Lankan-born Australian Under-19 player Rowan Perry for this encounter.

CR led 22-19 at halftime with Tharinda Ratwatte once again being the playmaker for the CR outfit. His maturity and leadership in the three quarter line was above average with just one year's experience of club rugby under his belt. He scored 21 points out of the Red Shirts' total tally of 31 points. His contribution included two tries, one conversion and three penalties.

Police led 26-25 with 10 minutes to go for the final whistle but Ratwatte was on target with two superbly converted penalties to take the Longdon Place club through and their hope of reclaiming the league ended on a positive note. CR will be meeting Kandy away in Nittawela where the results will have a major bearing in deciding the league this year.

Havies secure close win

Havelocks continued their dominance in local rugby despite losing their star player Dhanushka Ranjan to Kandy. They beat Army in a tight finish at Havelock Park last night. After leading 20-18 at halftime, Havelocks stamped their class through fitness and professional play by securing a 36-27 win.

Both Sri Lanka Sevens players Dulaj Perera and Sudharshan Muthuthanthri played outstanding rugby to seal the game for Havelocks.

This was the third time Army finished with a close loss, after falling to Navy and CR in nail-biters. Sri Lanka Sevens player Hirantha Perera returned to the squad after missing out a few games by scoring the last try for Havelocks. Two unbeaten teams in the league, Havelocks and Navy, will battle it out at Havelock Park.