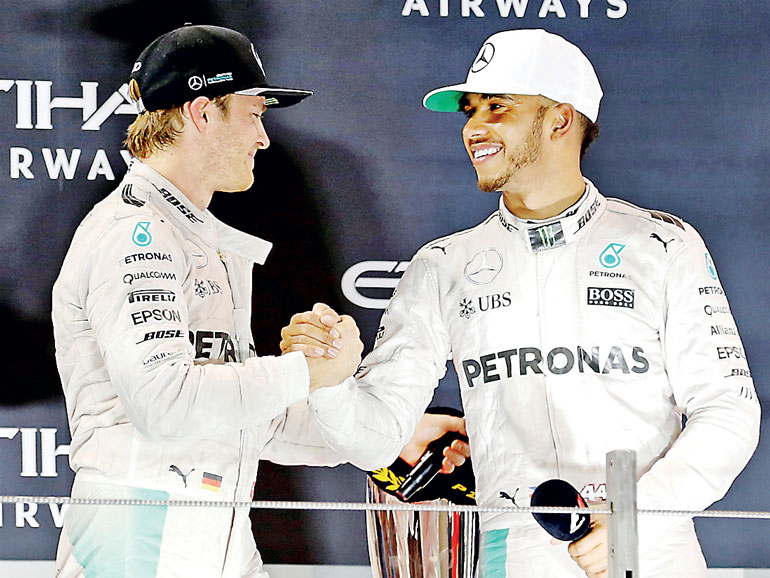 Reuters: Formula One world champion Nico Rosberg hailed Mercedes team mate Lewis Hamilton as one of the greatest drivers of all time on Wednesday but ruled out forging any friendly ties with the Briton as long as they raced each other.

Rosberg, who lost out to Hamilton in the previous two years, made it third time lucky when he clinched his maiden title with a second-place finish behind the triple world champion at the season finale in Abu Dhabi on Sunday.

The pair have been at loggerheads all season and their frosty relationship had been compared by Mercedes boss Toto Wolff as a volcano ready to erupt.

Hamilton compounded matters further when he deliberately slowed the pace from the front in Abu Dhabi, hoping to back Rosberg into a position where rival drivers could overtake the German in a last-ditch effort to overhaul his 12-point deficit.

"Lewis is one of the best of all time. He sets a high standard," the 31-year-old Rosberg told reporters during a visit to his Wiesbaden birthplace in Germany. The tense atmosphere between the childhood friends as they waited for Sunday's podium ceremony spoke volumes, with Rosberg hoisting the sport's 86-year-old commercial supremo Bernie Ecclestone into the air but choosing to ignore Hamilton.

There was minimal eye contact, let alone a handshake.

"It will always be difficult between us. We are in the same team and race against each other for titles," Rosberg said.

"It is virtually impossible to have a good relationship. We used to be best friends when we were young so at least we have this respect for each other. This helps somewhat," he added.

"I do not know how he feels at the moment but I know how I felt in 2014 and 2015."

Rosberg lost any hope of claiming the 2014 title with an engine problem at the final race of the season but he has to be free of such reliability issues this year.

"For me it was difficult to stomach. In 2015 I lost to him again. It will now take some time for him to process this," Rosberg said.