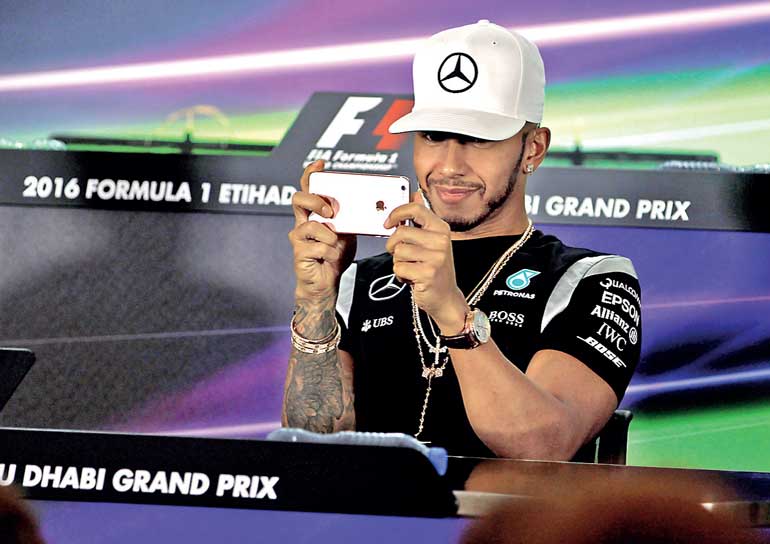 Mercedes' Formula One driver, Lewis Hamilton of Britain films journalists and photographers with his smart phone during a news conference. REUTERS
Reuters: The death of an old friend and mentor has doubled Lewis Hamilton's determination to win Sunday's title-deciding Abu Dhabi Grand Prix.

The Mercedes driver paid a moving tribute on Thursday to Aki Hintsa, the McLaren team doctor and fitness expert who played a key role in convincing the former champions to give him a Formula One debut in 2007.

"Whilst I have that fighting spirit in my heart from the last races I've done, I come here with almost double the power in the sense that I feel I want to win this race more so for him," the Briton told reporters.

"We were texting every single race through his battle and particularly the last race on Sunday," he added. "So coming here this weekend, whilst it's an emotional time, I'm here to try and do him proud."

Hamilton, 12 points behind team mate NicoRosberg, revealed that he had flown to Switzerland immediately after winning the Brazilian Grand Prix to be with the Finn.

A former missionary and medic, who had worked in Ethiopia and African war zones before joining McLaren in the days when compatriot Mika Hakkinen was champion, Hintsa died of cancer last week at the age of 58. "I was very, very fortunate to have been able to be there with him and his family in the last days and actually get to see him on the last day of his...," Hamilton said, his voice tailing off with emotion.

"On the Monday after Brazil, I got to see him and spend time with him and we played music, got to see him smile, got to see the amazing man he was," added the Briton, who flew back to Los Angeles before arriving in the Middle East.

"He was very instrumental in me getting that seat at McLaren... he'd built a really strong relationship with (former team boss) Ron (Dennis) and Ron was kind of a mind to say that if Aki says you're ready then I believe you're ready," he recalled.

Hamilton has won the last three races, and nine in total this season -- more than any driver has ever managed in a season without taking the title.
Rosberg finds calm in past failures
Reuters: Formula One favouriteNicoRosberg hopes his experience of past title battles can bring success at the third time of asking in Sunday's season-ending Abu Dhabi Grand Prix.

"It definitely helps to have been there, done that, you know," the Mercedes driver told reporters when asked on Thursday how his nerves were holding up ahead of a race that could bring him a first championship.

"This is the third time that we're fighting for the championship and the second time that it's gone to the wire so for sure that helps to feel more relaxed."

Rosberg is 12 points clear of team mate and triple world champion Lewis Hamilton going into the 21st and final race of the season, which means he only needs to finish third to take the title.

If he does, it would end years of hurt. The 31-year-old was beaten to the title with three races to spare last year while the 2014 season ended in Abu Dhabi with Hamilton winning and Rosberg limping home in a stricken car and out of the points after starting on pole position.