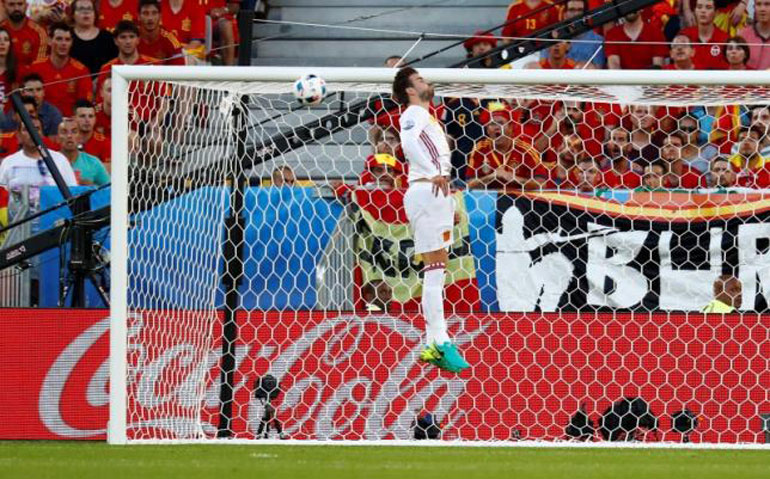 Spain's Gerard Pique in action as the ball hits the bar – Reuters
Reuters: Wednesday evening's dramatic Euro 2016 group stage finale concluded an engrossing opening round that was tight and tense to the last as the expanded new-look European Championship passed its first test.

Critics of the tournament's expansion from 16 to 24 teams will point to the lowest goals-to-game ratio of any Euros since 1992 (1.92) as evidence that lower entry standards have diluted quality.

Yet Euro 2016 has not been short of excitement even if the goals have not exactly flowed.

"It may be the best (competition) we've had," was the bold claim of UEFA competitions director Giorgio Marchetti. "There were a lot of question marks about the format, but we're having an open and competitive tournament."

Despite some defensive teams, contests have largely been absorbing and the extended format has not resulted in one-sided or inconsequential matches. Indeed, for the first time since 1996, no team won all three group games.

"There have been fewer goals," continued Marchetti, "but if more goals means more matches ending 3-0 or 4-0, the interest isn't really there."

Of the 69 goals scored, 27.5 percent have come from the 80th minute onwards as contests have been heavy on late drama.

"I've found these nil-nils and one-nils very exciting with teams fighting to the end," Marchetti added. "The pattern of late goals changing games in the last minute is one of the successes of the tournament.

"It has added drama and excitement," said Danny Murphy, the former England midfielder who is now a TV analyst. "And long may it continue."

Albania held France for 90 minutes before finally succumbing, tiny Iceland have enjoyed a fairytale Euro debut, while Northern Ireland scraped through thanks to their first victory at a major tournament since 1982.

Only two teams had nothing to play for heading into the final round of group fixtures, making for a dramatic series of deciders.

"The expansion of this tournament hasn't diluted it," argued Northern Ireland coach Michael O'Neill before the conclusion of the group stage. "We go into the final round of games with so many options."

The thrilling Group F deciders ensured the opening round ended with a flourish, as Cristiano Ronaldo finally made his mark with two goals as Portugal drew 3-3 in a thriller with Hungary and Iceland hit a stoppage-time winner to beat Austria and advance.

Iceland and Hungary are just two less-heralded sides enjoying moments their fans could only previously have dreamed of following committed performances.

"It's a huge positive to have more teams here," added Murphy. "It has given a few teams and tens of thousands of their supporters the chance to experience a tournament that otherwise they never would have done."

Indeed, while the misbehaviour of a minority of the travelling supporters generated international headlines, the overwhelming majority of fans have conducted themselves in exemplary fashion.

Wales, in their first major tournament since 1958, are the tournament's joint top scorers (with Hungary) and have had their championship odds slashed from 66/1 to 20/1 by bookmakers William Hill.

And while Wales have provided some of the most scintillating action on the pitch, their supporters have been responsible for some of the most colourful scenes off it.

The consequence of some of the upsets in the group stages is that the teams in one-half of a now unbalanced-looking draw have 20 major titles between them, compared with zero in the other.

Nonetheless, the refreshing prospect of eight nations, only two of whom have featured in a major final before, competing in unpredictable knockout ties for a place in the Paris final blows the tournament wide open.

No wonder then that UEFA's new format continues to win admirers.
Spain defeat 'over-dramatised', says Juanfran
​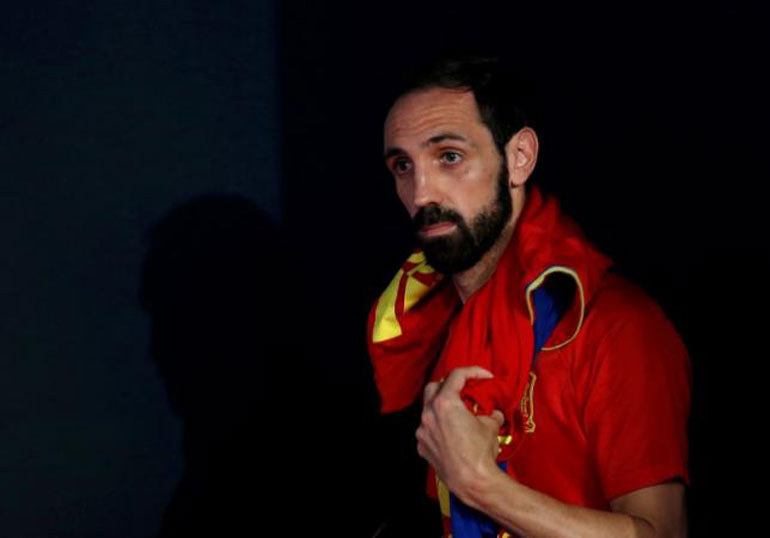 Spain's Juanfran Torres arrives for a news conference
​Reuters: Spain right back Juanfran has described as "over-dramatised" the critical reaction back home to his team's 2-1 defeat by Croatia at Euro 2016 and believes the champions will grow from the experience to beat Italy.

Everything has come under scrutiny since Tuesday's loss, including coach Vicente del Bosque's decision to field the same starting XI for a third straight game instead of resting players.

Yet the experienced Juanfran thinks people have been getting too carried away with their criticisms as the tension grows before Spain meet Italy in a repeat of the Euro 2012 final in what promises to be the marquee tie of the round of 16.

"In most of the three games that we have played (at Euro 2016), we have been superior," Juanfran said in his news conference on Thursday.

"I think our defeat has been over-dramatised. It was an unexpected defeat. We have thought a lot about Croatia's second goal and there was an excess of confidence on our part but we will correct that."

Many have wondered why Sergio Ramos, with the score 1-1, took the penalty that was saved when a midfielder or a striker could have done the job.

"The penalties are a decision taken by the coach, during the game or if there is a penalty shootout," Juanfran said.

The Atletico Madrid defender, a member of Spain's Euro 2012-winning side, is perhaps the perfect person to have in the changing room because he has learned how to cope with disappointment.

The 31-year-old came to the tournament on the back of a missed spot kick in the penalty shootout which ended up handing victory in the Champions League final to their Madrid neighbours Real.

Yet Juanfran always retains an upbeat attitude which he wants his team mates to share.

"The conclusions after the defeat are positive," he said. "It's there where you learn.

"We are convinced that we are going to qualify for the next round."

Even against Italy, one of the traditional heavyweights of international football?

"Any rival in the last 16 of a Euro is tough," Juanfran said, adding that it was not entirely accurate to suggest Spain's side of the draw is tougher.

"That remains to be seen," he said. "I apply the Atletico philosophy – one game at a time."

One cause for Spanish optimism is Alvaro Morata, who has scored three goals in the last two games.

"Alvaro Morata is at a great level," Juanfran said. "As a striker, we can only ask him to score and he is giving us that."