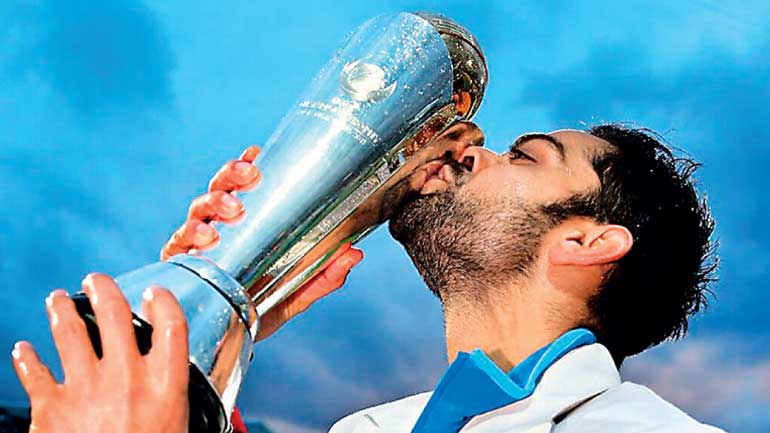 ESPNCricinfo: The future of the ICC Champions Trophy is back in doubt. It is understood that the tournament is highly likely to be scrapped after the 2021 tournament, in India, and could even be abolished after next year's tournament, in England, should a new ODI league be introduced from 2019.

The Champions Trophy was originally meant to be scrapped after the 2013 edition, but the huge commercial success of that year's tournament in England led to it being retained, at the expense of the World Test Championship that had been scheduled for 2017.

However, now the tournament faces being a victim of the ICC's ongoing review of the structure of international cricket. Under the latest proposals an ODI league, of 13 nations, is being planned from 2019, culminating in a play-off between the leading two sides in 2022.

It is felt that, with an ODI league alongside the World Cup, a third 50-over tournament would be superfluous, adding unnecessarily to the schedule and risking confusion among casual fans by creating three winners of 50-over international tournaments in the space of 24 months.

Although the Champions Trophy has proved hugely popular, in part due to its condensed nature – 15 matches will be played over 18 days in next year's competition – the ICC has never been enamoured with having two marquee tournaments in 50-over cricket alongside the World Twenty20, and had planned to scrap the tournament as far back as 2011.

Over seven editions, and despite the concise nature of the tournament, the Champions Trophy has struggled to build up a clear identity. An additional factor is the anticipated return of the World T20 to a two-year cycle. That proposal is likely to be ratified at the forthcoming ICC Annual Conference in Edinburgh.

As part of the ICC's proposals for reforms to the schedule of the international game, it is envisaged that structured competitions – ICC global events, and the leagues in Test and ODI cricket – would take up less than six months a year, creating ample time for countries to organise extra bilateral cricket, such as the Ashes, and for players to participate in domestic T20 leagues.

The commercial implications of scrapping the Champions Trophy are not a great concern. This is because the extra value of a biennial WT20 would more than offset the costs of its removal.

Indeed, it is understood that senior figures from the ICC have recently met with Star Sports in Dubai to discuss the future of ICC events and whether to retain the Champions Trophy.

It is possible that, as part of the negotiations for Star Sports to broadcast the two extra WT20s in this broadcasting cycle, scheduled for 2018 and 2022, they would agree for the 2021 Champions Trophy to be scrapped.

If it was agreed that the 2021 Champions Trophy would not take place, India, the scheduled hosts for that tournament, would be well-placed to host another WT20, in 2022 or 2024, instead.