Sports Minister Dayasiri (C) poses for a photograph with the country's cricket team as they prepare to leave for their forthcoming England tour in Colombo yesterday – AFP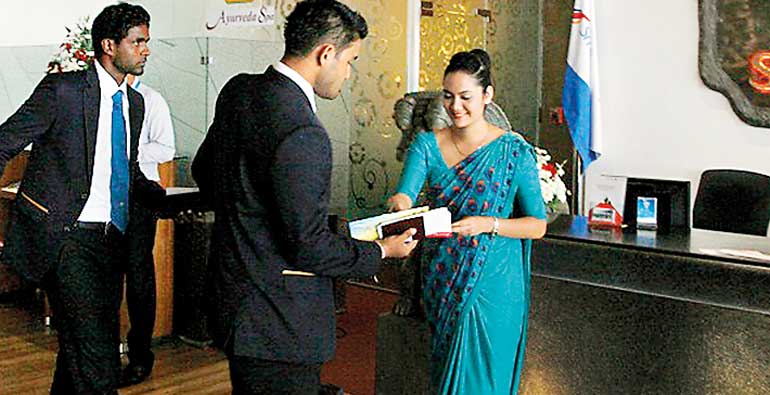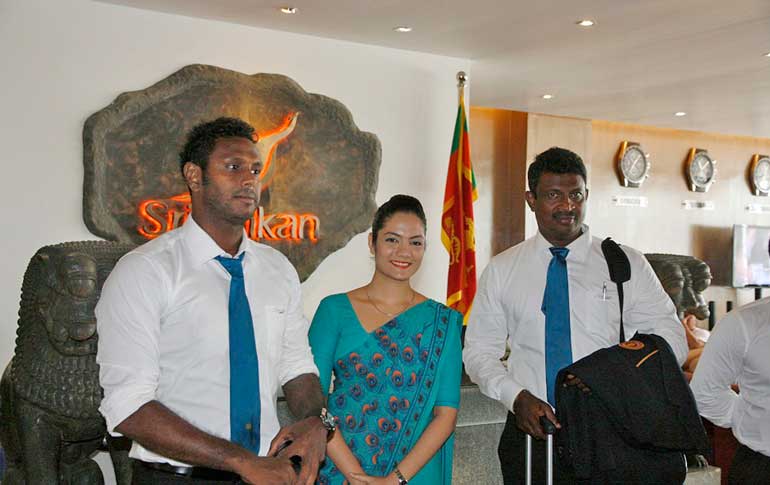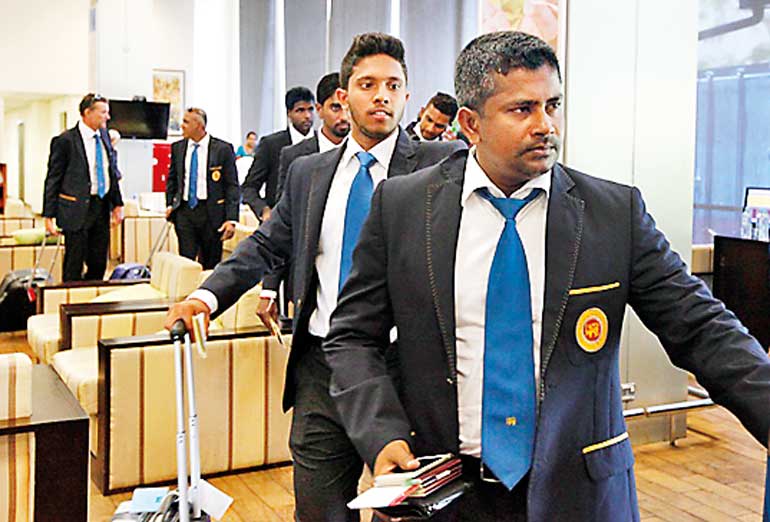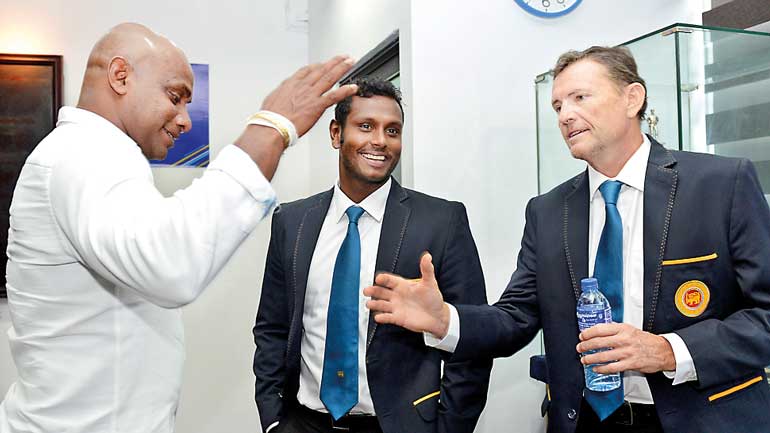 Sri Lankan cricket team head coach Graham Ford (R) shakes hands with former skipper Sanath Jayasuriya (L) as captain Angelo Mathews looks on at a press conference as the team prepare to leave for their forthcoming England tour in Colombo yesterday – AFP
By Madushka Balasuriya

Sri Lankan Head Coach Graham Ford has backed his fast bowling unit to make good use of the seaming conditions in England and "cause problems" for the English batsman on their upcoming tour.

Four of the five pacemen selected for the England tour were also on Sri Lanka's last tour to a seamer friendly nation: New Zealand. DushmanthaChameera, 24, was the pick of the bunch there claiming 12 of his 18 Test wickets in two Tests. Nuwan Pradeep, 29, picked up 13 scalps in three Tests. Dhammika Prasad, 32, picked up four playing just the final Test, while Suranga Lakmal picked up 7 in three tests. ShamindaEranga, 29, is the only member of the squad touring England who didn't travel to New Zealand, but on his last visit to England in 2014 his 11 wickets and economical spells helped Sri Lanka clinch a historic Test series victory.

"We've got a bowling group that have now grown into a pretty useful attack. I think they've all experienced success in English conditions," said a hopeful Ford, as his team prepared to depart for England last morning.

"I'm quietly confident that they will work together and really create pressure in those conditions. It's going to be extremely important that they bowl together as a unit, support each other and cause problems for the English batsman."

The South African-born coach was more cautious though in his expectations for the batsmen; with an average age of 26, Sri Lanka has a youthful batting line-up. Ford hopes practicing on Colombo pitches curated to simulate those in England would have given his players a taste of what they can expect.

"It's been pleasing to see how the new players have held up in those sort of conditions. There are a couple of young guys that have come in, and they've worked extremely well, extremely hard.

"Any team going to England during the summer finds it hard, but especially coming from the subcontinent it is quite an adjustment. And has been documented this is a team in transition, so some extra challenges probably awaits us. But it's quite exciting in many ways just to see how the young lads step up."

The biggest challenge though, Ford acknowledged, is to prepare the side mentally to be able to compete at a high level for a sustained period of time.

"Of course it's going to be a huge mental challenge for them. It's going to be about going out there and scoring big hundreds. A lot of that comes down from having experience. So for the batting group it's going to be a challenge but they're certainly up for the challenge."

Ford also called on his players to dispel any myths surrounding their mental toughness.

"In days gone by that was something everybody admired about Sri Lankan cricket was that the players were so tough mentally. Maybe there are a few question marks now about that, and its time for us now to start putting it right."

Sri Lanka are due to take on England in three Tests, five ODIs and three T20Is over the course of the next two months. The first Test will take place in Leeds from 19-23 May, with the second and third taking place in Chester-le-Street and Lord's respectively.
Thiri our "best batsman": Mathews
Sri Lankan Captain Angelo Mathews and newly-appointed Sri Lanka Cricket (SLC) Consultant Aravinda De Silva have given their complete support to LahiruThirimanne, backing the stylish left-hander to repay the faith put in him by the selectors, as the Sri Lankan team left for their tour of England last morning.

Averaging 24.84 in Test cricket and 34.48 in ODIs with the bat, Thirimanne's is a story of unfulfilled potential and his inclusion in the touring squad had been a surprise after he had been left out of the preliminary squad on 21 April. His most recent international innings - four knocks for a total of 14 runs at the recently concluded World T20 - did not support his case either, although his poor form in the tournament was in stark contrast to the assured performances he gave in the warm-up games against Pakistan and New Zealand where he scored 45 and 41 respectively.

This inconsistency and lack of big-match temperament has seen Thirimanne's mental fortitude brought into question, however his captain believes a tweak to his mindset will see the runs start flowing consistently.

"A slight mental shift in his approach can work wonders," explained Mathews. "Thirimanne is technically very sound and he is our best batsman at the moment. The whole selection committee and I, as the captain, are backing him to go out there and fire."

Mathews' support was echoed by De Silva, who urged patience with the 26 year-old seen as the future lynchpin of the team.

"There are certain players, like we have seen in the past, who take a little while longer than others to be successful. I don't think it's fair when people criticise players like Thirimanne, because at the end of the day we feel he has the potential to succeed.

"I don't think it's fair to the player to be put under so much pressure when he goes out to bat. He should go out there with a free frame of mind to play cricket and represent the country. That freedom is needed for them to perform," emphasised De Silva.

Thirimanne is likely to take up the number 3 slot in the batting line-up, a role he has occupied in the past, although he will face competition from Kusal Mendis, who made his Test debut there against West Indies last year and played there on Sri Lanka's tour of New Zealand in December, and NiroshanDickwella, who so far has only played in the lower order. Mathews though was non-committal when queried on which player would be chosen for the position.

"There's no concrete decision at the moment. We will take a look at the practice games as well and then come to a decision."