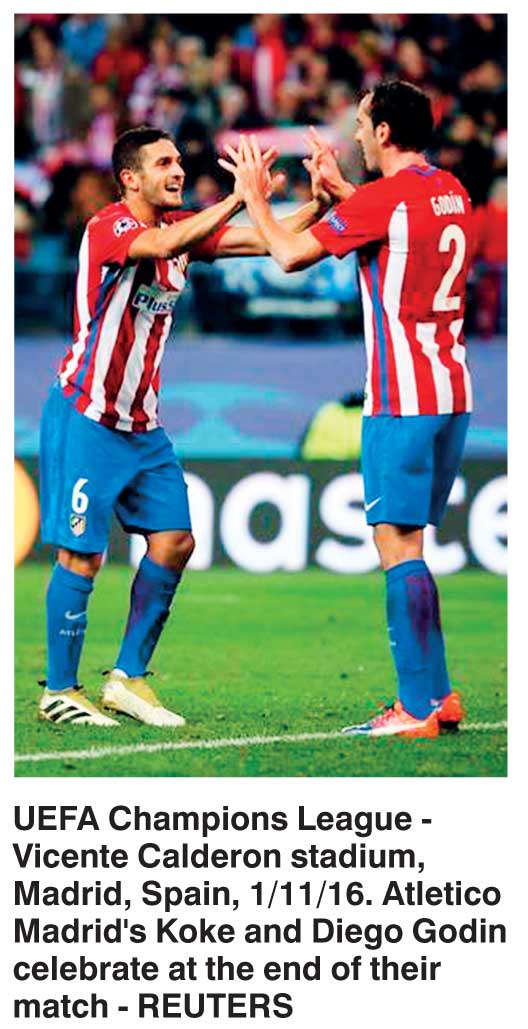 Reuters: Atletico Madrid's last-gasp 2-1 win over Rostov on Tuesday, which sealed a place in the Champions League last 16 was the latest demonstration that Diego Simeone's side are even more determined to win the trophy that has twice slipped from their grasp.

After losing to Real Madrid in the final last season on penalties and in extra-time in 2014, Atletico have got stronger in the competition, winning all four of their Group D games so far with only Leicester City matching their 100 percent record.

Simeone's men had beaten Bayern Munich, PSV Eindhoven and Rostov 1-0 but Tuesday's dramatic late win over the Russians was the closest they have come to dropping points, needing a 94th minute Antoine Griezmann goal to snatch victory.

"In Atletico we always appreciate these types of wins," said defender Filipe Luis. "It often happens.

"At home we want to win every game 3-0 or 4-0 but sometimes teams close up shop and it's tough. This is the Champions League, and we've proved we're in the top 16 teams in Europe."

Atletico have evolved from being built on defence and counter-attacks to a fluid, complete team with an ability to hammer opponents, demonstrated in La Liga by a 7-1 victory over Granada in mid-October and Saturday's 4-2 win against Malaga.

They have also retained a knack for winning testing games by the tightest of margins, particularly in the Champions League, where they have beaten all of their opponents a solitary goal.

Atletico top the group on 12 points with two games remaining and will battle it out with Bayern, who have nine, for top spot and seeded status in the last 16 draw. They host PSV on 23 November, and visit Bayern, who they beat in September, on 6 December.