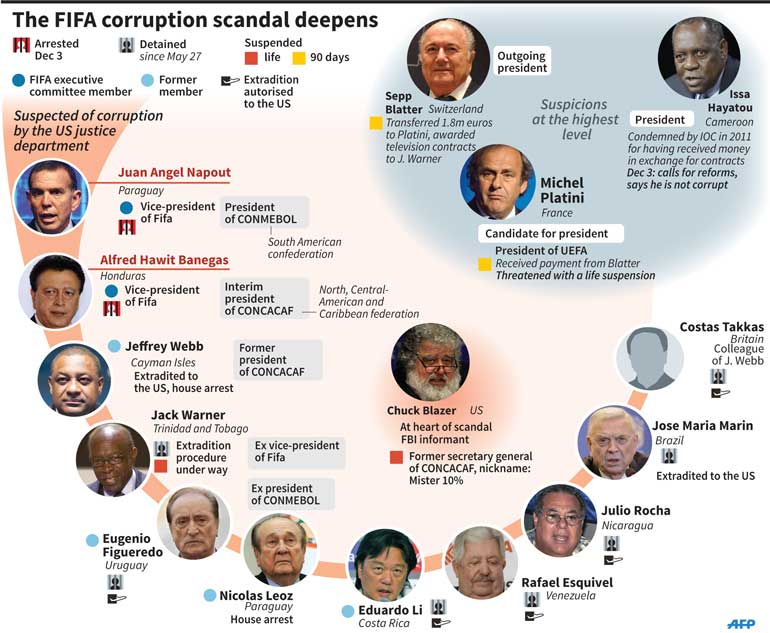 AFP (Washington): The multi-million dollar corruption scandal engulfing FIFA widened on Thursday (3) with 16 people indicted by US justice officials who pledged an unremitting crackdown on an "outrageous" betrayal of trust.

The latest dramatic twist in a long-running saga began with a dawn raid on a luxury Zurich hotel where Swiss authorities arrested South American Football Confederation (CONMEBOL) president Juan Angel Napout, and Alfredo Hawit, head of the Confederation of North, Central American and Caribbean (CONCACAF).

Hours later, the two appeared on a list released in Washington of 16 men – allfrom the same two confederations – indictedon charges of corruption.

They included Ricardo Teixeira, the former head of the Brazilian Football Confederation and a former FIFA vice-president, and Ariel Alvarado, a Panamanian who sits on FIFA's disciplinary committee.

"The message should be clear to every culpable individual who remains in the shadows, hoping to evade our investigation: You will not wait us out. You will not escape our focus," US Attorney General Loretta Lynch said.

Lynch also revealed that eight other people indicted since authorities launched an earlier wave of FIFA raids in Switzerland in May had now pleaded guilty.

Among those were Jeffrey Webb, a former FIFA vice president and head of CONCACAF, who has admitted racketeering and money laundering. As part of his plea deal, he has agreed to forfeit more than US$6.7 million in assets.

Hawit, a Honduran national, and Napout of Paraguay are both opposing extradition to the United States, the Swiss justice ministry (FOJ) said. Both are suspected of taking millions of dollars in bribes in return for selling marketing rights for regional tournaments and World Cup qualifying matches, the FOJ said.

Epicentre of graft

Hawit's predecessor in charge of football in Honduras insisted that he had done nothing wrong. "He assured and guaranteed that he was not involved in anything illicit," said Rafael Callejas.

FIFA's remaining leadership approved a series of measures aimed at improving transparency and curbing the authority of the body's much-maligned executive committee, which has emerged as an epicentre of graft.

The measures include a 12-year term limit for FIFA's president and other senior leaders, public disclosure of compensation for top officials and a pledge to include more women in senior positions.

They must be approved at a meeting of FIFA's 209-member associations in February, when a replacement will also be chosen for the organisation's suspended president SeppBlatter, who is the subject of a Swiss criminal investigation.

The head of the reform effort, Francois Carrard, told journalists that the measures offered FIFA an opportunity "to renew itself."

Acting presidentIssaHayatou, also implicated in previous corruption allegations, said Thursday's arrests "underscore the need to establish a complete program of reforms."

Despite the pledges for change, outsiders, including major corporate sponsors, may remain sceptical of whether FIFA is capable of fixing itself.
FIFA approve 12-year term limit for president
AFP: FIFA's Executive Committee on Thursday "unanimously" approved a programme of reforms which includes limiting presidents to a maximum 12 years in charge and introducing "transparency of compensation" for leading officials.

In a statement, world football's governing body confirmed it had been agreed to introduce the reforms as part of broader measures in an attempt to restore credibility at the scandal-hit institution.

The Reform Committee, chaired by Francois Carrard, proposed introducing "maximum term limits of three terms of four years for the FIFA President as well as all members of the FIFA Council, the Audit and Compliance Committee and the judicial bodies."

Current president Sepp Blatter, who has said he will stand aside in February, was voted in for a fifth term at the helm of FIFA, having first won election in 1998.

His predecessor Joao Havelange was in office for 24 years.

However, there will be no age limit for aspiring presidents.

"The age limit by definition is arbitrary," Carrard said at a press conference on Thursday.

"What is important is to ensure renewal of terms. That is why we reached absolute consensus," added Carrard, who called the introduction of a maximum three terms as "realistic, sound, fair."

The reform proposals also include bringing in transparency on salaries.

Carrard called for "disclosure on an annual basis" of the "individual compensation" of the organisation's president, council members, secretary general and chairpersons of both independent committees and judicial bodies.

In addition, the reforms call for greater diversity with the promotion of women "an explicit statutory objective."

Integrity checks will also be "compulsory and comprehensive" for all members of FIFA's standing committees.

The programme of reforms must get the approval of the 209 member federations at FIFA's extraordinary congress on February 26.

However, Carrard said the Executive Committee had shown "impressive unanimity to approve a package of reforms.

"It is impressive to see all members, without any exception, showing determination to carry out this reform process. The next step will be the congress in February."