Reuters: Ferrari president Sergio Marchionne says he has seen a new Kimi Raikkonen emerge this year and believes the 2007 Formula One world champion could be set for a 'phenomenal' 2016.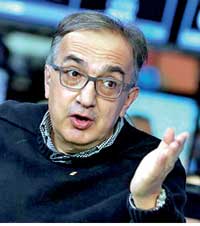 "If I can give you some encouraging information, it's that I have seen a huge change in Kimi during the season," he told a pre-Christmas news conference at Ferrari's Maranello headquarters on Monday.

"We were talking with some of our colleagues over the past three or four days, and we are beginning to look at a different Kimi."

Marchionne said the 36-year-old Finn, now a proud father, was a lot more settled in his private life and that would help him be more competitive.

Raikkonen ended the 2015 season in fourth place overall and with 150 points, compared to team mate and four times champion Sebastian Vettel who finished third with 278 points after winning three races.

The Finn – who had looked in danger of losing his seat but ended up being retained for another season – improved steadily over the year, however.

Marchionne compared him to a movie whose second half was better than the first and said he expected Raikkonen to be more engaged next year.

"It happened to Seb. He has had a phenomenal year in his first year and I am expecting that Kimi will rise up to the challenge and have a phenomenal season in 2016," he said.
---
Alfa Romeo could return to F1, says Marchionne
​Reuters: Fiat Chrysler could bring the Alfa Romeo brand back to Formula One as a competitor to Ferrari, chief executive Sergio Marchionne said on Monday.

"It's incredible how the Alfa marque remains in people's hearts," Marchionne, who is also Ferrari president, told reporters in an end-of-season news conference at the Italian team's Maranello headquarters.

"For that very reason we are thinking about bringing it back, as our competitor, to racing, to Formula One. It's important for Alfa to return."

Ferrari's red cars have carried Alfa Romeo branding already this season.

There were also discussions with Red Bull that never came to fruition, about possibly using Ferrari engines with Alfa Romeo branding next year. Red Bull ultimately decided to continue with an engine provided by Renault.

Ferrari are due to supply three non-works teams -- Swiss-based Sauber, American newcomers Haas and Red Bull-owned Toro Rosso -- with their power unit next season, although the latter outfit will use a 2015 version.

Ferrari's late founder Enzo Ferrari started out racing and managing a team for Alfa Romeo before setting up on his own in the late 1930s.

The first two Formula One world championships in 1950 and 1951 were won by Italian Giuseppe 'Nino' Farina and Argentine Juan Manuel Fangio in Alfa Romeo cars.

The company supplied engines in the 1960s and 1970s and returned as a constructor in 1979 before again withdrawing at the end of 1985.

Fiat Chrysler has a 48 billion euro ($52.85 billion) five-year investment plan centred on turning Alfa Romeo, Jeep and Maserati into global brands.

Italian car giant Fiat bought Alfa, whose iconic red Spider 1600 model was driven by Dustin Hoffman in the 1967 cult film "The Graduate", in 1986.

Several attempts at reviving the brand have stalled, however, and only about 72,000 Alfas were sold in 2014. Marchionne has said he aims to lift that to 400,000 by 2018.

Fiat Chrysler Automobiles (FCA) sold 10 per cent of Ferrari in an initial public offering in October.