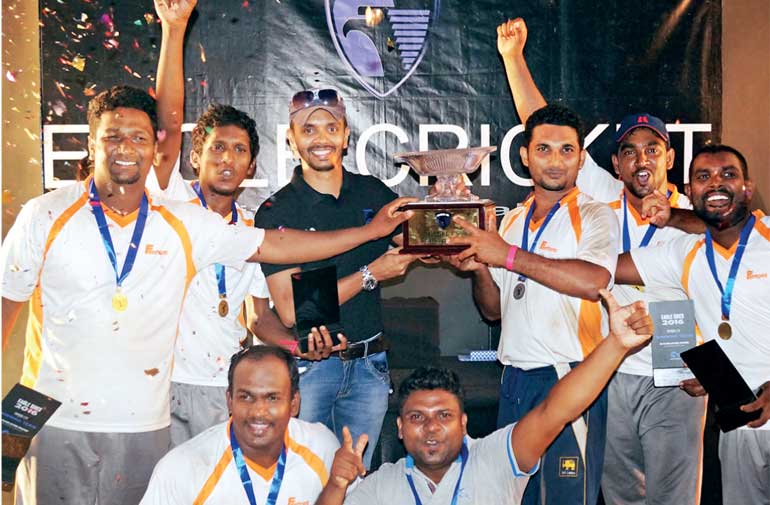 Eagle Logistics Colombo Managing Director Asanga Weerakody hands over the Challenge Trophy to the Fentons
The Eagle Logistics Challenge Trophy, a six-a-side cricket encounter organised by Eagle Logistics Colombo for the 7th consecutive year, was held recently at the Bloomfield Cricket and Athletic Club Ground.

48 teams took part in the tournament, playing 70 matches which consisted of a league format in the first round, and a knockout round thereafter.

The participating teams were Ansel Textiles, Akbar Brothers, AMW, Analytical Instruments, Aqua Technologies, BAM Group, Ceylon Oxygen, EDNA, Coca Cola, CW Mackie's, Debug Group, Dialog, DPL, Eskimo Fashions, ETAL, Fentons, Hemas, Hemsons International, Iceman Technologies, IDEA, Impression Labels, KIA Motors, Kramski Lanka, MediEquipments, Nestlé, NMK, ODEL, Packages Lanka, Paradigm Clothing, Perstaff Holdings, Plastipack, Premier Synthetic, Sadalanka, SaruInternational, Screenline, Softlogic, Spenser Denim, Stafford Motors, Sunshine Packaging, SUSUKI, Synergy Life Solution, Technomedics, Thai Aluminium, Trade Promotors, Tyre Lanka, Union Apparels, Voguetex and Winter Quilts.

Eskimo Fashions and Fentons made it to the finals with the Fentons clinching a thrilling win during the Super Over.

The Chief Guest of the tournament was Dinesh Priyantha Herath, who won a bronze medal for the Men's Javelin Throw at the Rio 2016 Paralympics. The Guest of Honour was Unilever Sri Lanka Director Supply Chain Norman Lutfy.