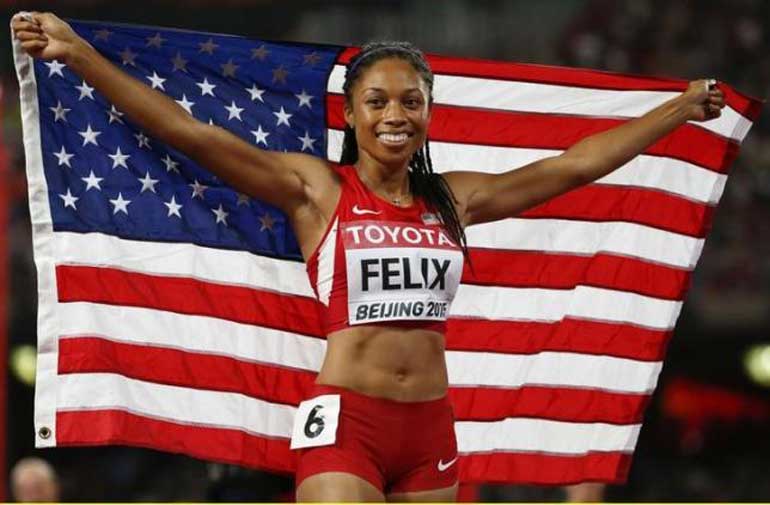 Allyson Felix from the US reacts after winning the women's 400m final during the 15th IAAF World Championships at the National Stadium in Beijing, China 27 August
Allyson Felix of the United States won her ninth world championships gold medal and first at 400 metres with a dominating performance at the Bird's Nest Stadium on Thursday.

"I had to take advantage of the speed that I have and bring that to the 400," said the 29-year-old from Los Angeles. "I wanted to control the race."

The Olympic 200-metre champion set off by far the quickest of the eight women finalists to hold a commanding lead by 150 metres.

Off the final bend she was four metres clear of her nearest rival, Shaunae Miller of the Bahamas, who could not close the gap down the final straight.

Felix's 49.26 seconds winning time was the fastest in the world this year while Miller claimed silver in 49.67.

The bronze medal was won by Shericka Jackson, who led home Jamaican team mates in fourth (Christine Day), fifth (Stephenie McPherson) and sixth (Novlene Williams-Mills).

Britain's Christine Ohuruogu, the champion in 2007 and 2013 and Olympic gold medallist on this track seven years ago, faded on the home straight and finished eighth in 50.63.

"I saw her (Felix) easing up going into the (final) bend and I wasn't sure if she'd misjudged the strides and I thought, let me just stick with her," said the Briton. "But then she just had this kick and I couldn't match that."

Miller said she had been struggling for the past month after picking up a hip injury in Monaco.

"I feel so blessed and shocked," she said. "To gain silver in such a tough race is unbelievable. And the personal best is the icing on the cake."

Felix, three times the 200m world champion, has focused on the one-lap sprint for the first time this season. "It's so different. I just wanted to challenge myself this year, and I'm just glad I could be successful," she said.

The gold medal won by 29-year-old Felix is only the third won by the U.S. team after six days at the Beijing world championships.