Reuters: Tennis stars from past and present came out on a make-shift court on Monday (August 24) in New York, ahead of the start of the U.S. Open next week.

The event was put together by sportswear maker Nike and was to kickoff the final Grand Slam tournament of the year in a celebratory style. It was also twist on its "Street Tennis" ad featuring legendary tennis stars Pete Sampras and Andre Agassi who were both present at the event.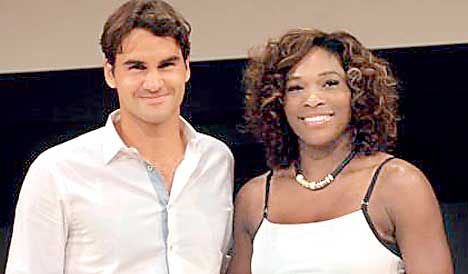 Besides Sampras and Agassi current tennis stars Roger Federer, Rafael Nadal, Serena Williams and Maria Sharapova also played rallies on the pop-up court complete with potholes.

Agassi praised Federer when asked who his favorite was going into the tournament.

"The way Roger (Federer) played last week, I mean he is timeless. He is ageless and timeless. I think the favorite going into the tournament is Djokovic, but I think it's up for grabs," he told Reuters.

For the ladies, Agassi predicted defending champion Serena.

"If future occurrences are best predicted by past occurrences it's hard not to think anybody but Serena," he said.

Agassi, who exchanged long rallies at the event with longtime rival Sampras, said that their relationship has changed over the years.

"We have a lot of opportunities to get out there these days and to kind of enjoy each other on different terms."

Both Sampras and Agassi dominated the game in the 1990s.

Last week Williams finished her last U.S. Open tune-up in style by beating Romanian third seed Simona Halep 6-3 7-6(5) to win the Western & Southern Open on Sunday.

Five-times winner Federer will go into next week's U.S. Open as the world number two after beating Novak Djokovic in the final of the Western & Southern Open in Cincinnati at the weekend.