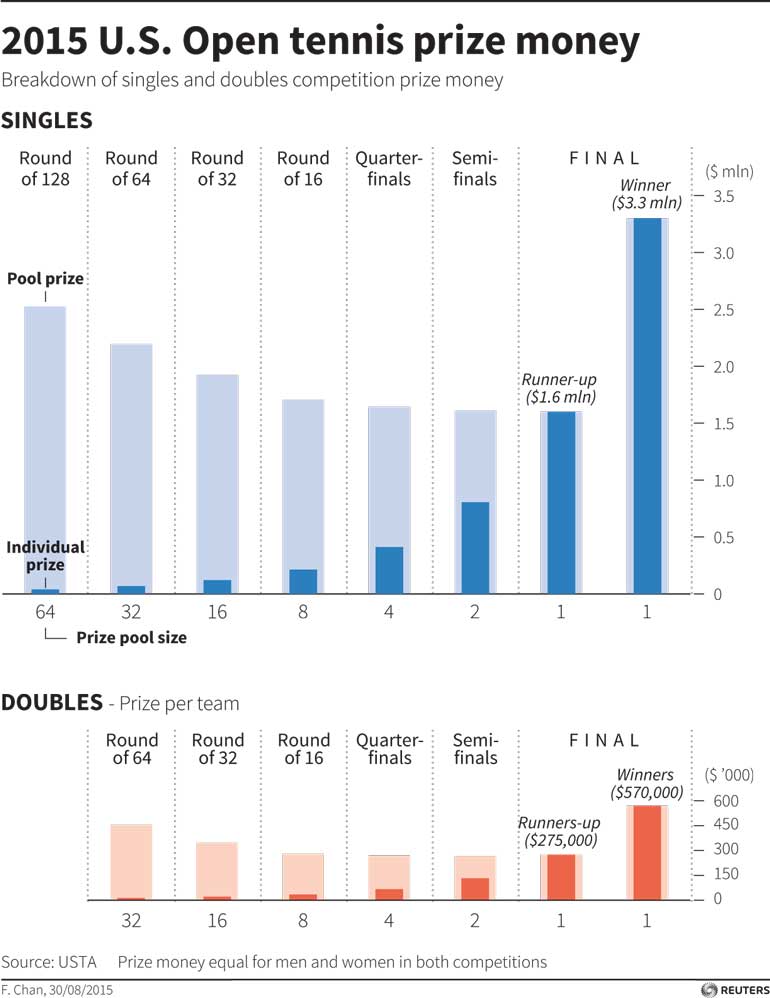 The US Open has long been a tournament for the 20-something set but an in-form Roger Federer is looking to break that trend at the year's final grand slam.

In the last three-plus decades only Pete Sampras in 2002 and Jimmy Connors in 1983 won the men's side of the tournament at Flushing Meadows in their 30s. Both were 31.

Now here comes 34-year-old Federer, fresh off an impressive win on the hardcourts in Cincinnati. Even though he is seven years removed from his last Flushing Meadows triumph, Federer has been buoyed from an equipment change and his work with two-times US Open champion Stefan Edberg.

"I would like to give Stefan a lot of credit and he has helped me in a big way," said Federer, who won five straight US Open titles between 2004 and 2008.

"But I think the backhand is better since I also have a bigger racket head. I really think that was the change because it happened at the same time."

The 17-times grand slam champion moved into second spot in the world rankings with his win over Novak Djokovic in the Cincinnati final, which means he will not face the Serbian world number one unless the rivals reach the Sept. 13 final.

"Number two, three doesn't really matter," the Swiss maestro said. "To be quite honest, I don't think that far ahead because I haven't been in a final since 2009 (when he lost to Argentine Juan Martin del Potro). So I've got my work cut out."

Last year, Marin Cilic of Croatia claimed his first grand slam title with a straight sets win over Japan's Kei Nishikori. There has not been a successful defence on the men's side at Flushing Meadows since Federer's run.

As the ninth seed, Cilic is on Djokovic's side of the draw and could face fourth seed Nishikori in the quarter-finals.

Djokovic, Federer and Andy Murray arrive as the favourites. Murray won in Montreal. Both Federer and Murray beat Djokovic for their Masters Series wins in August.

Murray has the most difficult US Open draw of the three because he will meet unseeded Australian Nick Kyrgios in the first round and possibly French Open champion and fifth seed Stan Wawrinka in the quarter-finals.

As the eighth seed, two-times champion Rafa Nadal has a potential clash with Djokovic in the quarter-finals.
Grand Slam question: Who can challenge Serena?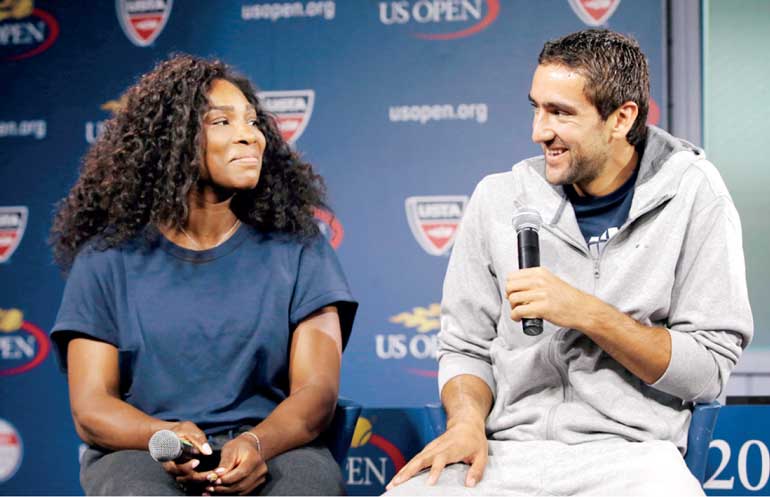 Defending men's and women's singles US Open champions Serena Williams of the US (L) and Marin Cilic of Croatia (R) attend a news conference at the USTA Billie Jean King National Tennis Center ahead of the 2015 US Open tennis tournament in New York, 27 August. Play begins at the US Open on 31 August – Reuters
Serena Williams has been vulnerable this grand slam season but unbeaten in the year's first three major championships.

With the 33-year-old American looking to register the first Grand Slam in 27 years with a triumph at the Aug. 31-Sept. 13 US Open, the question remains: Who can beat her?

Second seed Simona Halep of Romania is 1-6 against the big-serving American, who has won the last three US titles.

Third-seeded Russian Maria Sharapova, who has won each of the grand slams during her career, is 2-18 against Williams with her last win coming 11 years ago.

Fourth seed Caroline Wozniacki of Denmark has won once in 11 meetings with the big-serving world number one.

Williams, winner of the last three US Open titles, has been invincible yet has seemed beatable during this late career surge.

The biggest server the women's game has ever known has struggled at times with her delivery and lost nine sets during her victorious run through the 2015 Australian, French and Wimbledon championships, including seven first-set losses.

Yet no one has succeeded in derailing her grand slam charge.

"Who can stop her?" pondered US Fed Cup captain Mary Joe Fernandez, a two-time grand slam doubles winner and a commentator for ESPN. "If she plays her best, she's better than everybody and she will win. I think the best chance to upset Serena is earlier rather than later."

Several dangerous players could test Williams early in the Flushing Meadows fortnight.

Mirjana Lucic-Baroni of Croatia, who upset Halep at Roland Garros, figures to be Williams' second-round opponent.

American Sloane Stephens could be there for the third round, and big-serving compatriot Madison Keys or Poland's Urszula Radwanska may be waiting in the fourth round.

The quarter-finals could put Williams against either her sister Venus, eighth-seeded Czech Karolina Pliskova or dangerous 18-year-old Belinda Bencic of Switzerland.

Bencic beat Williams in a tight three-setter this month in the Toronto semi-finals on her way to a second career WTA title.

"You sort of need a Bencic (type) that goes out there bold and brave, loving the moment and playing Serena," Fernandez told Reuters.

Victoria Azarenka has given Williams stiff challenges at the Open in the past, but the 20th-seeded Belarussian is in the other half of the draw and could only face her in the finals.

Halep, who reached two finals in the US hardcourt run-up to the Open, has won more hardcourt matches this year than anyone on tour with 32 and is tied with Williams for most WTA titles on the surface this year with three.

"I have a lot of confidence right now because I played tough matches and won difficult matches," said Halep said. "I'm pretty sure I have a good game now."
Djokovic confident despite run-up losses to rivals
World number one Novak Djokovic lost to rivals Roger Federer and Andy Murray in the finals of U.S. Open warm-up events but the Serb insists those defeats have aided his preparations for the last grand slam of the season.

"Of course, I did want to win both in Canada (Montreal) and Cincinnati, but it didn't happen," the top-seeded Djokovic told reporters on Saturday at Flushing Meadows.

"But they deserved to win because they were better players on the court. It only changes in terms of me understanding what I did wrong, what has happened in those matches, analysing it... Trying to develop the right approach to prepare myself and to get better."

Djokovic is gunning for a third grand slam title this season after winning the Australian Open and Wimbledon crowns and boasts a match record of 56-5.

The 28-year-old Djokovic won three grand slams in 2011 and considers himself an even better player now in some respects.

"I think physically I'm stronger and I'm able to endure longer than I did in 2011," he said.

Despite defeats in the back-to-back finals, Djokovic had a more successful preparation to the U.S. Open than last year, when he won only two matches in Toronto and Cincinnati before losing to Japan's Kei Nishikori in the semi-finals in New York.

The Serb also feels that the foundations of a permanent roof over Arthur Ashe Stadium that will be in place for next year's Open will help his performance by calming the swirling winds that in the past have affected his accuracy.

"I've practised several times in the center court," he said. "The construction is really impressive and that has protected the court from the wind, so we have less of the swirling conditions on the court, which does help. In the past, I've played many matches where it was difficult to control the ball on the court because of the swirling conditions. Now it protects it."

Djokovic, who won the U.S. Open in 2011 but has lost in four other finals at Flushing Meadows, will play his opening match of this year's championships in Monday's opening day session against Brazil's Joao Souza.